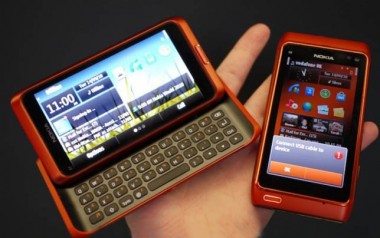 Nokia has launched its long-awaited first Windows mobile phones, hoping to claw back the market share it has lost in the tough, top-end smartphone race to chief rivals, Apple's iPhone, Samsung and Google's Android software.
But some analysts say it may be too little, too late, for the world's top mobile phone maker.
With price tags of 420 euro (£365) and 270 euro (£235), the Lumia 800 and 710 are based on Microsoft's Windows 7 software and come eight months after Nokia and the computing giant said they were hitching up.
"Lumia is reasonably good … but it's not an iPhone killer or a Samsung killer," Neil Mawston from Strategy Analytics said. "But where Nokia does stand out is on their price – it looks like they are going to be very competitive."
Lumia 800, with Carl Zeiss optics and 16GB of internal memory, will be available in selected European countries in November, including France, Germany, Italy, Netherlands, Spain and Britain. It will be sold in Hong Kong, India, Russia, Singapore and Taiwan before the year ends.
Lumia 710, with a 1.4 GHz processor, navigational applications and Nokia Music – a free mobile music-streaming app – will first be available in Hong Kong, India, Russia, Singapore and Taiwan toward the end of the year.
The company's share price jumped almost 3% in an otherwise depressed market on the Helsinki Stock Exchange but settled, closing almost unchanged at 4.80 euro.
Nokia, which claims 1.3 billion daily users, has been the world's biggest handset maker since 1998, selling 432 million devices last year – more than its three closest rivals combined.
But after reaching its announced global goal of 40% market share in 2008, it has struggled against rivals making cheaper handsets in Asia, and its share has shrunk to 24% earlier this year.
Source : Orange News