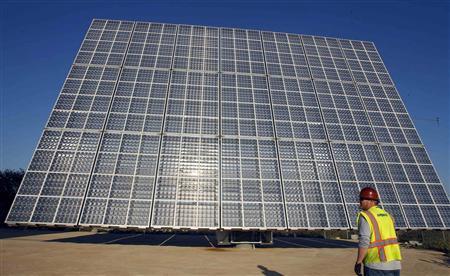 A fledgling but fast-growing solar technology that multiplies the sun's power up to many hundreds of times promises to deliver cheaper electricity than traditional panels and has received the backing of some major industry players.
Called concentrating photovoltaic solar, or CPV, the technology is best suited for very sunny, desert-like locations and could face some near-term challenges. Those include a sharp drop in the price of its top competition — mainstream solar panels — and a financing environment that can be skittish about new technology bets.
That hasn't stopped some big corporations from moving into the space, however, with U.S. solar company SunPower Corp and Swiss engineering company ABB Group making significant bets on CPV in recent months. Previously, the technology had been primarily the domain of a handful of Silicon Valley startups.
"This is the only model which is viable in the long run because this model is very competitive without the kind of subsidies which have been supporting the PV market for the last decade," said André-Jacques Auberton-Hervé, chief executive of French semiconductor materials maker Soitec SA, which bought a majority stake in German CPV maker Concentrix Solar in 2010.
CPV's market share is still tiny, with just 689 megawatts of projects in development compared with 33,000 MW of installed non-concentrating solar panels globally, according to GTM Research. It is expected to grow quickly to more than 1 gigawatt of new installations by 2015, but its share of the market would remain small given its geographic limitations. In 2015, CPV would still represent less than 4 percent of the solar market.
Though CPV technologies vary widely, their fundamental similarity is the use of lenses or mirrors to concentrate sunlight onto very efficient photovoltaic cells. Tracking systems are used to capture maximum sunlight.
Because the sun's power is literally multiplied, fewer solar cells — which are made from costly semiconductor materials — are needed. That's a major advantage, CPV manufacturers say, as renewable energy is still racing to reduce its cost so it can compete — without government subsidies — with nuclear, coal and natural-gas-fired power.
COMPETING WITHOUT SUBSIDIES
According to GTM Research, the cost of a high-efficiency CPV system is roughly equivalent to other PV projects today but is poised come down faster than other solar technologies. By 2020, CPV systems are expected to cost $1.20 a watt, compared with about $1.67 per watt or more for systems made from rival PV technologies.
Soitec's Auberton-Herve pointed out that stalwart PV players such as First Solar Inc are now eager to reduce their reliance on subsidized markets and chase growth in CPV-friendly regions such as Africa and India.
"We developed the right product for these kinds of markets," he said.
Indeed, SunPower had those regions in mind when it swept into the CPV market late last year with a product — called C7 because it concentrates the sun's light seven times — it says delivers solar electricity for up to 20 percent less than traditional PV technology.
"Our pipeline is expanding quite rapidly to include C7 in those areas where we might not have gone before," SunPower President Howard Wenger said in an interview.
It helps, of course, that SunPower's majority shareholder, giant French energy company Total SA, has a strong presence in those regions, Wenger said.
Other large energy players entering the CPV space include ABB, which last month paid $20 million for a minority stake in GreenVolts, a California startup backed by venture capital firm Oak Investment Partners. ABB will market the company's systems to utilities and businesses worldwide.
Soitec, meanwhile, has teamed up with conglomerate Johnson Controls Inc, which will develop projects with its technology.
DEMONSTRATING SUCCESS
But even with some corporate giants behind it, CPV faces some sizeable challenges, not the least of which is a dramatic drop in the price of traditional panels.
"CPV was kind of coming out guns blazing at the beginning of 2011," said Brett Prior, a solar industry analyst with GTM Research. "Now in the last 12 months module prices have really gotten cut in half. That makes it a lot harder for (CPV companies) to say that they are significantly cheaper anymore."
In addition, CPV companies must overcome skittishness on the part of banks who have shied away from financing projects that employ newer technologies.
"The challenge for CPV is simply being able to demonstrate a long term operating history that's consistent with success similar to crystalline PV," said Greg Rosen, vice president of solar finance at Union Bank's leasing and asset finance division.
"With a regular PV project, if you have a general failure or if the PV manufacturer goes bankrupt, you can substitute parts very easily. But if you have a similar issue with a CPV company, they may have a patented technology that might make it hard to substitute."
Of course the complexity — and cost — of CPV technologies varies depending on their materials and design. Some, like products from SunPower and startup Skyline Solar, concentrate the sun only a few times onto traditional silicon solar cells.
At the other end of the spectrum, technologies from companies including Soitec, Amonix, SolFocus and GreenVolts concentrate sunlight many hundreds of times onto solar cells made by Boeing Co's Spectrolab division that are traditionally used to power satellites. The higher the concentration, the less semiconductor material needed.
Many CPV players say the mirrors, lenses and other components that make up the lion's share of their systems have been used in other industries for years and should offer banks some measure of comfort with their technologies.
"We are using the standard materials that have been proven for decades … to put this together in a unique way to drive the cost below we think anybody else," Skyline vice president of marketing Tim Keating said.
Source : Reuters