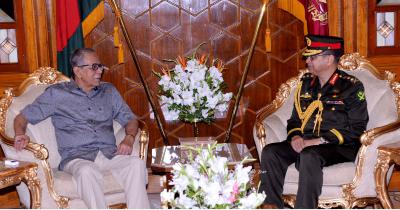 e-News® | The NEWS Company…DHAKA, June 28, 2015 : Newly-appointed Chief of Army Staff General Abu Belal Muhammad Shafiul Huq made a courtesy call on President Abdul Hamid at Bangabhaban today.
During the meeting, Abu Belal Muhammad Shafiul Huq expressed his gratitude to the government for appointing him as the Chief of Army staff, president's press secretary Joynal Abedin told #thenewscompany.
General Shafiul Huq sought President's cooperation for the development and modernization of the Bangladesh Army. The President hoped that the Bangladesh Army would move forward further under the leadership of the new army chief. Abdul Hamid also advised the army chief to take steps for running all organizations under Sena Kalyan Sangtha profitably. Secretaries concerned to the President were present. General Abu Belal Muhammad Shafiul Huq has taken charge as chief of the Army Staff on Thursday.