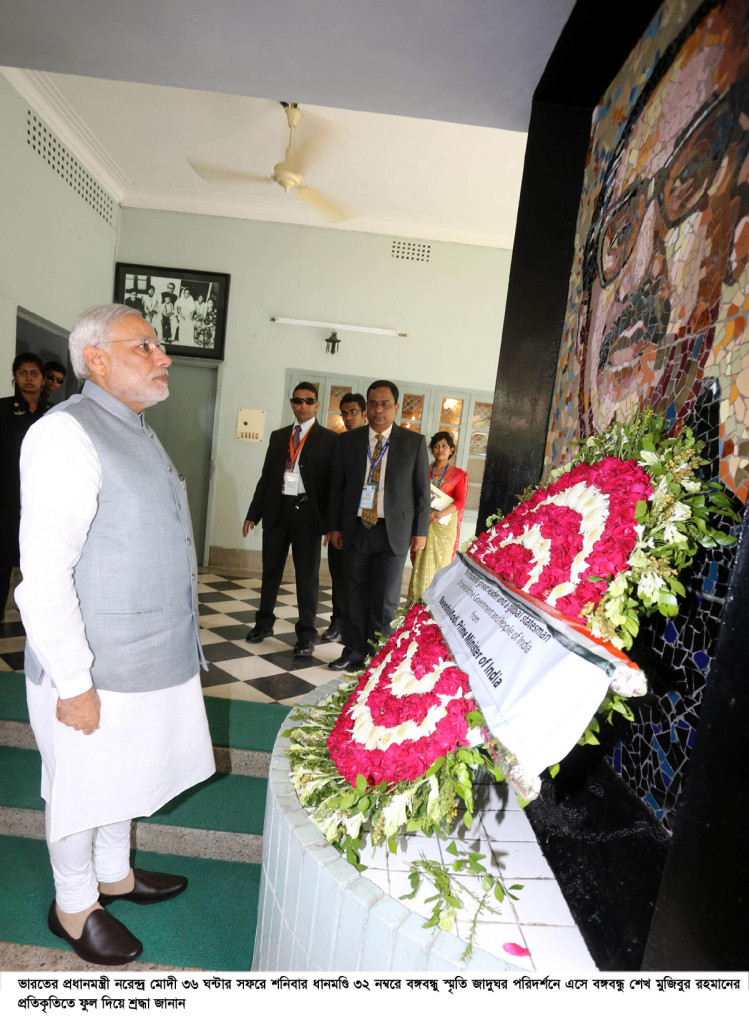 e-News® | The NEWS Company…DHAKA, June 6, 2015 : The visiting Prime Minister of India, Narendra Modi, has termed the Father of the Nation, Bangabandhu Sheikh Mujibur Rahman, as an "icon of democracy". Soon after paying homage to the Bangladesh's founding father at Bangabandhu Bhaban in Dhanmondi, Modi made the remark in a tweet.
In the tweet, the Indian Premier also honoured Bangabandhu saying that he was a "towering personality" and "a great friend of India."
"Saluting an icon of democracy, a towering personality and a great friend of India, Bangabandhu Sheikh Mujibur Rahman", Modi writes in his latest tweet.
Earlier the Indian prime minister in a Bangla tweet said: "I bring with me the affection and goodwill of the people of India."
The Indian statesman, known for his lively presence in social networking sites like Tweeter and Facebook, also thanked his Bangladesh counterpart Prime Minister Sheikh Hasina for the reception accorded to him, tweeting, "Thank you PM Sheikh Hasina for the warm welcome. I look forward to a very good visit that will strengthen ties between India & Bangladesh."
Modi, who made as many as six tweets in the last few hours, wrote, "Leaving for Bangladesh. This visit is going to strengthen the bond between our Nations, benefitting peoples of our countries & our region." On June 4, the Indian PM tweeted, "I am confident that my Bangladesh visit will enhance our ties & will be beneficial to peoples of both our Nations." On the same day, he made a post, a big one actually, on his Facebook account, sharing his enthusiasm and delight over the visit.
Terming the Father of the Nation Bangabandhu Sheikh Mujibur Rahman, as "a friend of India and a pillar of strength and democracy in the South Asian region", Modi spelled out some programs he is scheduled to attend during his 36-hour visit.