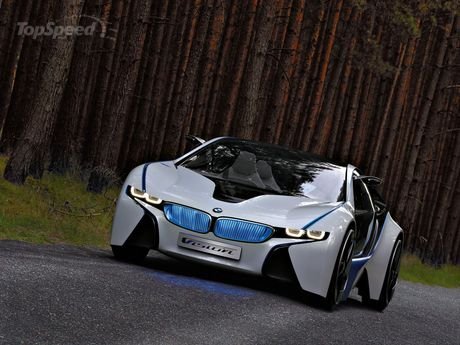 Exterior and Interior
When BMW first announced it's plans to put the Vision Efficient Dynamics into production, a company source said: "there will be less of the synthetic glass and more solid structure added to the final design." How can this be translated? The i8 will be built on an aluminum chassis which houses the powertrain and the passenger cell. This cell consists of high-strength, but extremely lightweight carbon fiber-reinforced plastic (CFRP). It will be built at BMW's Leipzig plant starting 2013.
The car's front will be defined by the now famous kidney grille and two large air intakes. The gullwing doors will be replaced by standard ones and the rear will get a quad exhaust system.
For the interior we expect the usual M accessories: sports leather seats, a sports steering wheel, and different aluminum inserts.
The Engine
The Vision Efficient Dynamics Concept was powered by a three cylinder turbo diesel power plant combined with two electric motors for a maximum output of 356 HP and 590 lb-ft of peak torque. For the i8, BMW will combine a 1.5 liter inline 3 engine with two electric motors with an output of 95 HP each. The final output will be in the 400 HP area.
BMW will offer both RWD and AWD versions, with the hybrid version being offered only as an AWD model. The engine will be mated to a new double clutch transmission and will sprint the future supercar from 0 to 60 mph in just 4 seconds. The company has promised a fuel economy of 58 MPG and an autonomy of 400 kilometers. The bad news, though, is that top speed will be limited to only 155 mph, but we're sure tuners will have something to say about this.
As for the M version, it is rumored to be powered by an Inline 6 turbo engine or V8 engine with an output of 450 HP. The engine will be combined with two "supercaps" that will add a total of 100 HP each. And if you do a little math you'll understand why we can't wait to see the Project i Coupe when it goes into production.
When Can You Get One?
The BMW Project i Coupe will go on sale in 2013. In Germany, it is rumored to be priced between 125,000 and 175,000 euro (between $175,000 and $250,000 at the current exchange rates). BMW announced it will produce around 30,000 units within 5 years.
The Competition
The BMW project i Coupe will take on models like the Mercedes-Benz SLS AMG, the Audi R8 V10, and the Porsche 911 Turbo. All of them are German models and all develop more than 500 HP. Not to mention that all of them have prices bigger than any normal person can ever afford. So, for those out there who can actually afford one, we believe the final decision will be made depending on everyone's likes and tastes.
Source : Internet