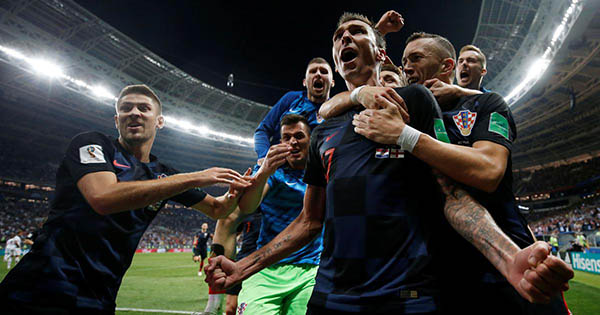 #thenewscompany :  Croatia came from behind to enter the dream final of the FIFA World Cup 2018 as they recorded a 2-1 goals victory in the extra time over England in the second semifinal held in the early hour of Thursday at Luzhniki Stadium in Moscow.
Both teams ended at 1-1 goal at the end of regulation.
Perisic (68 ) and Manzukic (108) scored for Croatia and Tripper (5th) scored for England.
It was dream start for England as they surge ahead in the very fifth minutes of the proceedings when Kieran Trippier became the second England player to score a direct free-kick goal at a World Cup (since 1966), following David Beckham who scored one in both 1998 and 2006 (1-0).
England looked better in the first half and should double the lead whereas Croatia after an early debacle took time to settle down with lots of promises in the second half.
As expected Croatia scored the cherished equalizer when Vrsalijiko from the right flank send a cross. Perisic comes from behind Trippier at the far post , and then in front of Walker to poke a leg to connect the ball giving no chance to English goalkeeper Pickford (1-1) in the 68th minutes of the proceedings.
If the first belonged to England, second half was all the way Croatia as the match ends into stalemate at the regulation time as the match rolls into extra time.
England should gone ahead in the 99 minutes as John Stones gets up brilliantly, heads towards the far corner, and Vrasaljko heads off the line!
This time Croatia is unlucky not go ahead in 107th minutes, as Perisic has put in a beauty cross from the left for Mandzukic, who gets in front of the England defense. He has a clean strike at goal on the stretch, but Pickford rushes out, makes a brilliant save!
Mandzukic scored the cherished for Croatia in 108 minute as English defense made a critical error. (2-1).
Croatia will be playing first ever finals against France which will be their third on July 15.