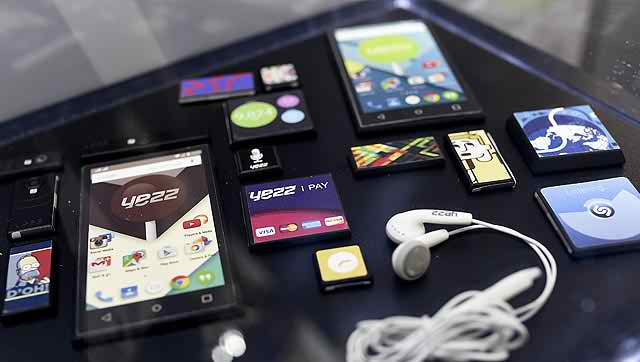 e-News® | The NEWS Company…BARCELONA, March 4, 2015 : With a smartphone that slots together piece by piece like Lego, US Internet giant Google is trying to reinvent the mobile as most phone makers are honing sleeker handsets. The company aims to challenge its rival Apple's thin iPhones with the Google Ara project, giving smartphone aficionados the option to build their phone themselves.
Anlysts say tech boffins will love it but remain cautious about how popular it may be compared to polished conventional smartphones that sit snugly in the palm. Google says the Ara phone is part of its bid to widen Internet access to users in developing countries and could create a new industry for assembly-ready handset parts.
Google's associate, US firm Yezz, presented a prototype of the build-your-own device this week at the Mobile World Congress in Barcelona, the world's biggest wireless telecom trade fair. The phone consists of a base structure on which various square, magnetic modular parts can be attached: screen, battery, camera, speakers and more. Google plans to release it in three sizes. Ara would allow users to replace individual components rather than throwing the whole thing away and buying a new handset. It says the base unit will last at least five or six years.
"That is good for the environment," said Annette Zimmermann, a telecom specialist at German consultancy Gartner.