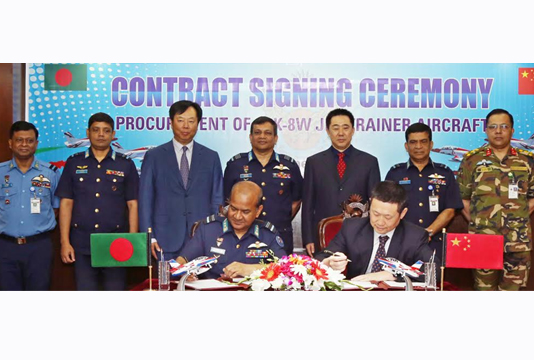 #thenewscompany :  Bangladesh Air Force (BAF) signed a contract with China under G2G agreement for procurement of K-8W Jet Trainer aircraft at the Air Headquarters today. Chief of Air Staff Air Marshal Masihuzzaman Serniabat was present at the ceremony, said a press release.
Assistant Chief of Air Staff (Plans) Air Vice Marshal M Sanaul Huq and Vice President of CATIC Liu Jianhai signed the agreement on behalf of Bangladesh and China respectively. Among others, PSOs of Air Headquarters, senior BAF officers, representative from AFD and MOFA were present on the occasion.
Ambassador of China in Bangladesh Zhang-Zuo and President of CATIC were also present. BAF has been flying K-8W Jet Trainer aircraft since 2014. Further acquisition of K-8W aircraft will certainly enhance and uplift the training capability of BAF. The contract was signed as part of implementation of the "Forces Goal-2030".