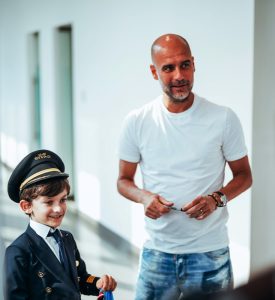 #thenewscompany : Etihad Airways, the national airline of the United Arab Emirates, celebrated World Pilots' Day with the release of a video featuring world-renowned football manager Pep Guardiola during his visit to its state-of-the-art flight training academy in Abu Dhabi.
In the warm-hearted video, Pep is no longer the one calling the shots as he takes his orders from aviation enthusiast Alban who is just eight years old. The aspiring young pilot dreams of flying for Etihad one day and was thrilled to meet and train one of football's most famous faces.
Pep Guardiola commented: "It was a pleasure to visit the Etihad training academy and meet Alban. I fully believe the Etihad Airways crew are exceptional at what they do and represent the airline so well. It was a pleasure to step into their shoes for a brief moment to learn about their roles."
Antonoaldo Neves, Chief Executive Officer, Etihad Airways, said: "We're proud of Etihad's pilots and the training they do to fly our guests safely around the world. To celebrate World Pilots' Day, we wanted to provide a window into their world by flying in Pep Guardiola to Abu Dhabi to challenge him to a flying lesson. Together with our long-standing partners Manchester City FC, we would like to say thank you to all pilots for their contribution to connecting the world."
In the video, they take in the sights of the iconic Yas Marina Circuit and the striking red roof of Ferrari World Abu Dhabi as they come into land in the UAE's capital, from where Etihad Airways operates to more than 60 destinations.
World Pilots' Day is celebrated every year on the 26 April. The day recognises the important contribution pilots make to safely connect millions of guests around the world every year.