Customers Embrace Media 100's Fast, Professional, Easy-to-Use Video Editing for macOS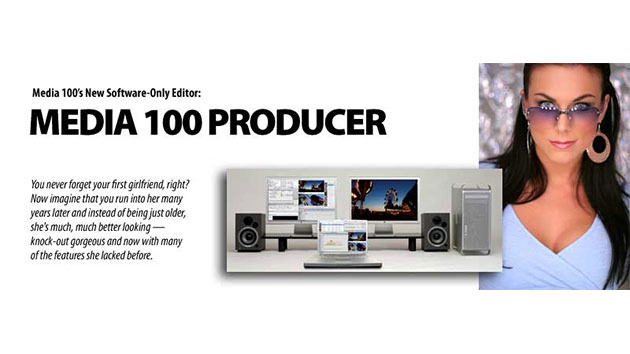 #thenewscompany – Months after the completely-free release of Media 100 Suite 2.1.8, thousands of editors are taking advantage of Media 100's ease-of-use, responsive interface, and professional results to produce material for a broad range of audiences, including prime-time television, Fortune 500 companies, and live shows attended by thousands.
Featuring an easy-to-use, responsive interface and broad support for 4K, 2K, HD, and SD standards, Media 100 delivers broadcast-quality output for tape and file-based workflows. Editors can edit in Media 100 and export their Media 100 timeline to Adobe After Effects for finishing. In addition, Boris RED is included for integrated transitions and titling on the Media 100 timeline.
Magic Eye Relies on Media 100 for Prime-Time Television
Magic Eye is a post-production and production company based in Cologne, Germany. They do post-production for prime-time shows for all of the major German TV stations as well as commercials and on-air design. They choose tools based on their needs for actual projects, but they rely on Media 100, in particular, for multi-cam projects that have a tight schedule. "Media 100 is the best tool for fast turnaround multi-cam projects, and it is extremely reliable," comments Florian Peters, co-owner, Magic Eye. "The audio tools are solid and quickly available, and the multi-cam setup is optimized for our needs. Also, the ability to work with ProRes is a big timesaver, and the performance is impressive."
AdSortium Media Taps Media 100 for Fortune 500 Video Production
AdSortium Media regularly taps multiple Media 100 editing suites in delivering work for clients such as Alcoa, DOW Chemical, DuPont, TEDx, United Way, Habitat for Humanity, Ashley Furniture, and Wells Fargo, among many others. "Editors will always argue amongst themselves over which editing system is the best. The only real truth is that the best system is whatever you use that works for," comments Ben Price, owner, AdSortium Media. "I've thrown a lot at my Media 100 editing systems and they have consistently and reliably empowered me to complete my work with professional results."
Guymark Studios Produces Live Shows with Media 100
Guymark Studios produces live shows with audiences ranging from 150 to 5,000 attendees. They provide staging, technology, live video, produced video roll-ins, computer support, sound, and more. Multiple Media 100 systems form the backbone of Guymark Studios' video production. "For the live shows we produce, we create hundreds of roll-ins with Boris RED, many with a combination of animated text, still images, effects, and videos," comments Mark Guarino, owner, Guymark Studios. "Then, we play back with Media 100, and it really shines. Media 100's ability to isolate the timeline, record and source windows, and edit suite window makes for the perfect playback environment."
Free Availability and Online Support Communities
Media 100 Suite is available for free download from the Media 100 website (www.media100.com). It runs under macOS Sierra (version 10.12), Mac OS X 10.11 ("El Capitan"), Mac OS X 10.10 ("Yosemite"), and Mac OS X 10.9 ("Mavericks"). Expert advice and assistance is available from an enthusiastic community of Media 100 editors on Creative COW's Media 100 Forum (https://forums.creativecow.net/media100media100hd) as well as the Media 100 Facebook Group (https://www.facebook.com/groups/Media100Suite/).
About Media 100
Media 100 is a partnership between Boris FX, the leading developer of visual effects and post-production solutions for film and video, and MacVideo Promo, a promotion company that offers exclusive deals on tools for Mac video editors. For more information, or to download Media 100 Suite completely free, visit the Media 100 website at www.media100.com