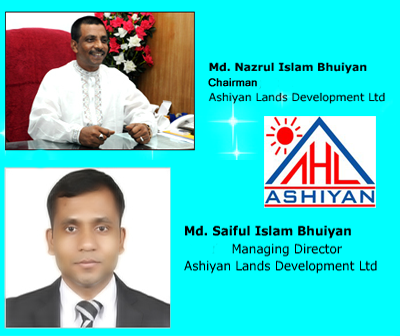 Its been around a week, Police failed to arrest Chairman and Managing Director of Ashiyan City though three days have elapsed since the filing of a case against them by DGFI personnel. On Monday, the chairman and his accomplices assaulted two corporals of DGFI – Abu Taher and Saiful Islam – and snatched away their ID cards and mobile phones. On Tuesday, the DGFI personnel filed a case.
Officer-in-Charge of Gulshan Police Station Rafiqul Islam said, "We conducted drives in several places, including the office of Ashiyan City, to arrest the accused." "We are also using advanced technology to find out their whereabouts," he claimed.
On Wednesday, police detained a person named Ali Akbar from the office of Ashiyan City. Investigation officer SI?Abdul Barik told daily sun that Ali Akbar was produced before a court with a prayer for a five-day remand but the court rejected it and ordered police to interrogate him at the jail gate.
In reference to the daily news headlines "Two DGFI Men Assaulted Ashiyan City bosses", Directorate General of Forces Intelligence (DGFI) personnel Tuesday filed a case against 12 persons, including Ashiyan City Chairman Nazrul Islam Bhuiyan and Managing Director Saiful Islam Bhuiyan.
The ten other accused are Mosharaf Member, Bodi, Md Selim Hawlader, Sergeant (retd) Azmat, Bachchu Hawlader, Zakir Hossain and four Ansar members—Faruk, Shahin, Razzak and Nur Alam.
Corporal Abu Taher filed the case with Gulshan Police Station on charge of assault and attempt to murder. He is now undergoing treatment at the Combined Military Hospital (CMH) with his injuries in his ear and waist. Meanwhile, a Dhaka court directed Gulshan Police Station to submit probe report by July 27 in the case filed against 12 persons on charge of "assaulting and attempting to murder the DGFI men".
Metropolitan Magistrate Md Tareq Mainul Islam Bhuiyan passed the order when the case was placed before his court on the day. According to case details, Corporal Abu Taher and Saiful Islam were doing their duty in Gulshan-2 intersection area on Monday evening.
Suddenly, according to the directive of Ashiyan City Chairman Nazrul Islam Bhuiyan and Managing Director Saiful Islam Bhuiyan, the other accused waylaid them to prevent them from discharging their duties and assaulted them, according to the case. They along with 7 to 8 unidentified people brought the law enforcers in a room on the fifth floor of Unicorn Plaza located at 40/2 North Avenue of Gulshan 2 where Ashiyan City Chairman Nazrul Islam Bhuiyan and Managing Director Saiful Islam Bhuiyan were present.
"When we introduced us as the member of DGFI and showed our identity card, they became angry and with the help of Nazrul Islam Bhuiyan and Saiful Islam Bhuiyan the accused detained and beat us indiscriminately," it is stated in the case.
"At one stage, in an attempt to kill me ansar member Shahin hit me on my left ear, waist and other parts of my body with the butt of his rifle. He also hit on Saiful Islam's eye, forehead and other parts of his body," the case said.
They also snatched ID cards and mobile phones of the DGFI members. On information, Gulshan police and DGFI high officials rushed to the spot, rescued them and took them to CMH.
When contacted, Rafiqul Islam, officer-in-charge of Gulshan Police Station, said, "We conducted drives in the Gulshan office of Ashiyan City to arrest the accused but did not get any one during the raids." "We hope to arrest the accused soon," he added.
From The news Archives Its found that The Chairman of The Ashiyan City & real estate developer Nazrul Islam Bhuiyan, head of the Asian City Land Developer, to jail for attempted murder. In the year 2010.
Bhuiyan was accused of attempting to murder in a bid to take possession of a piece of land. Judge ANM Bashir Ullah of Dhaka metropolitan sessions judges court gave the order rejecting his appeal for bail.
eNewsDesk