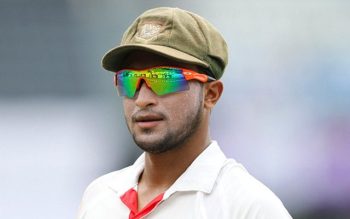 #thenewscompany : Shakib Al Hasan believes that Bangladesh have the ability to beat West Indies in the upcoming three-match T20 series even though they are low on confidence after being swept in Test series.
Last time when Bangladesh toured West Indies in 2018, they won the three-match T20 series by 2-1 after the Test whitewash but during that time, the three T20Is were held in USA.
This time, West Indies will host three T20Is in their Islands. But whatever it is, Shakib said the T20 series is important, considering the upcoming Asia Cup and T20 World Cup.
"We have lot of areas where we can improve but if we can play as a team I believe that we can win this series (T20 series)," Shakib said.
"If you consider the preparation for the ICC World Cup then it (the T20 series against West Indies) is important because we will play Asia Cup and then World Cup so we don't have much of time and taking that into consideration it is very important series for us," he said.
He went on to saying: "I think it will be a big challenge for us taking on West Indies in the T20s. If we can do well here, this confidence will really help when we play Asia Cup in Sri Lanka because it will help us to carry a good mindset because I know Asia Cup will be really tough where there will be India, Pakistan and Afghanistan. Sri Lanka is playing well consistently. We have lot of areas where we can improve but if we can play as a team I believe that we can win this series."
The three T20Is are scheduled to be held on July 2, 3 and 7 after which Bangladesh will play a three-match ODI series.
Mahmudullah Riyad however will lead the side in T20 series while Tamim Iqbal is the captain of ODI team.
Shakib meanwhile said, they need to improve in every departments and create a culture if they want to be a good Test nation.
Bangladesh will host India in December to play two Tests and three ODIs that will be played in Dhaka and Chattogram.
"Look we have to improve in every department (not just batting) if we want to win a Test match. I think it is good that we have a long gap so I feel during this gap those who are interested in playing Tests and want to play Tests will be working individually to improve," Shakib remarked.
"Without improvement there is no way we can do well and there is no set of players who will do well if they are called. So if we can move forward by making a plan with the set of available players and the other three to four players who are outside I feel we can do something good. Otherwise it is difficult to have any big change from what had happened so far. So we have to make changes in a couple of areas and to do that we have to change our mentality because that is important and we have work to do in this aspect (making changes along with mental shift)," he said.