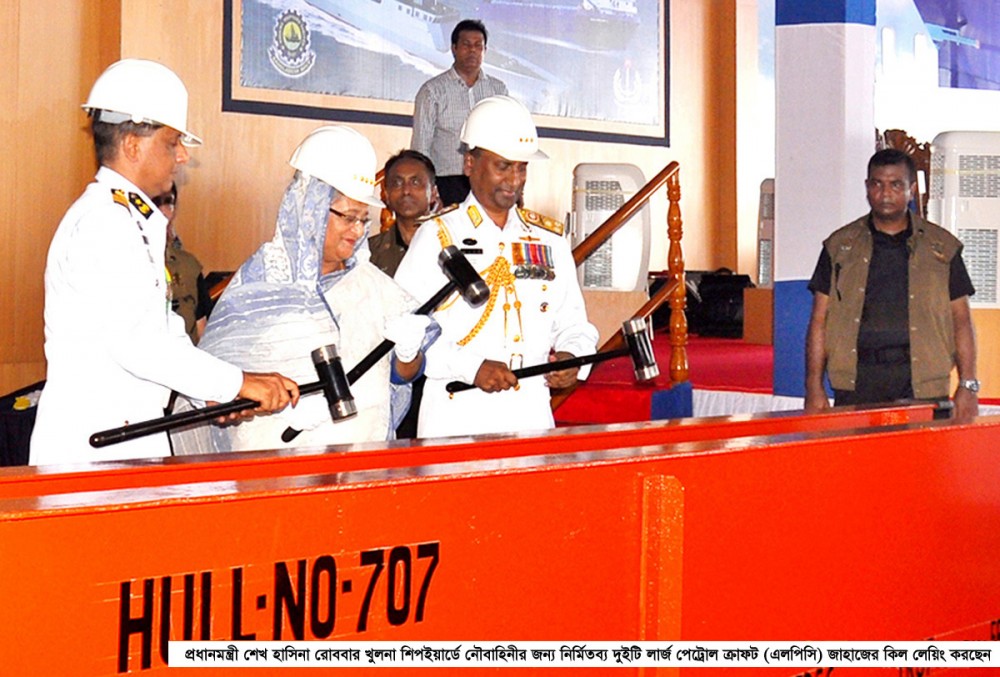 e-News® | The NEWS Company…KHULNA, Sept 6, 2015 : A new horizon has been opened up in the country's shipbuilding industry as Khulna Shipyard today launched the work of two large patrol craft (LPC), the largest warship construction project in Bangladesh. Prime Minister Sheikh Hasina laid the keel of the two patrol craft, expressing her firm optimism that Khulna Shipyard would be capable of exporting developed and modern warships in future. "Khulna Shipyard is now constructing and repairing big and small quality warships for Bangladesh Navy along with building large and medium oceangoing ships. I believe that it would be able to attain the capacity of exporting developed and modern battle ships in future, Insha Allah," she said.
The Prime Minister inaugurated the work of the two craft by releasing pigeons and balloons at Khulna Shipyard here this afternoon. From the same function, she also opened two container vessels for the Bangladesh Navy. Chief of Naval Staff and Chairman of Board of Directors of Khulna Shipyard Vice-Admiral Farid Habib and Managing Director of Khulna Shipyard Commodore M Khurshid Malik also spoke at the keel-laying function. On her arrival at Khulna Shipyard, the Prime Minister was received by Chief of Naval Staff Vice-Admiral M Farid Habib and the managing director of the shipyard.
Thousands of people standing on both sides of the roads greeted the Prime Minister on her way to Khulna Shipyard from BNS Titumir Naval Base. Sheikh Hasina said that Bangladesh has started utilizing the golden opportunity to tap the growing demand of constructing ships in global market as many countries are now showing their interest about Khulna Shipyard and communicating with them. "Utilization of the permanent asset at Joymoni Goal at Mongla would further expand the country's shipbuilding industry," she said.
She said that it is indispensable to have dependable and alternate measures for constructing vessels, maintenance of necessary dredgers and other equipment for maintenance of marine vessels to face any kind of emergency situation. From that context, Sheikh Hasina said Khulna Shipyard is a strategic asset for Bangladesh of which her government is pledge-bound for ensuring its further development and mobility. Besides, she said, Khulna Shipyard is also contributing towards ensuring social welfare alongside doing business as a industry.
The Prime Minister said the government's objective of handing over Khulna Shipyard to Bangladesh Navy in 1999 has been achieved. "After constructing five warships, now with the launching of works of building state-of-the-art large patrol craft, you've put this organization on a solid foundation," she said. She hoped that the newly-built modern container vessels for the Noukalyan Foundation of Navy built by Khulna Shipyard Limited would enrich the growing technical and technological experiences of this yard side by side with making special contributions to national economy. Sheikh Hasina said that the container vessels on the country's domestic river routes, especially from Chittagong, Pangaon and Mongla Ports could easily transport goods to the neighboring countries.
In this connection, the Prime Minister expressed her sincere thanks to the friendly countries which stood beside Bangladesh in this endeavour. "I hope that with such joint efforts with our friendly countries, our long standing relationship would be further consolidated and at the same time as a result of such initiative, effective technology transfer would be possible," she said. Noting that her government is always active in ensuring happiness, prosperity and welfare of the workers, Sheikh Hasina said that the Labour Act-2006 has been made time befitting through its amendment.
"Keep in mind that this Shipyard belongs to you, so it is your sacred duty to keep this operative and keep up its pace," she said.  The Prime Minister said that Khulna Shipyard has been playing a pioneering role in constructing state-of-the-art warship alongside importing battle ships from abroad as part of the process to turn Bangladesh Navy as a three-dimensional force. Giving credit to this achievement beyond expectations to all related to this Shipyard, the Prime Minister said that such success is the result of hard labour, sincere efforts and skilled working spree over the last 15 years.
"You've proved again that you could make effective role through right decision and management. For this, the whole of the nation is proud and I extend my heartfelt congratulations to you," she said. Sheikh Hasina also said her government has decided not to privatise any state-owned sick industries, rather it would develop the land of the industries and invite the private sector to set up mills and factories in that land. She expressed the hope that Khulna Shipyard would make its place not only in Bangladesh, but also in the international arena and suggested constructing dredgers and ferries considering their growing demand in the country.