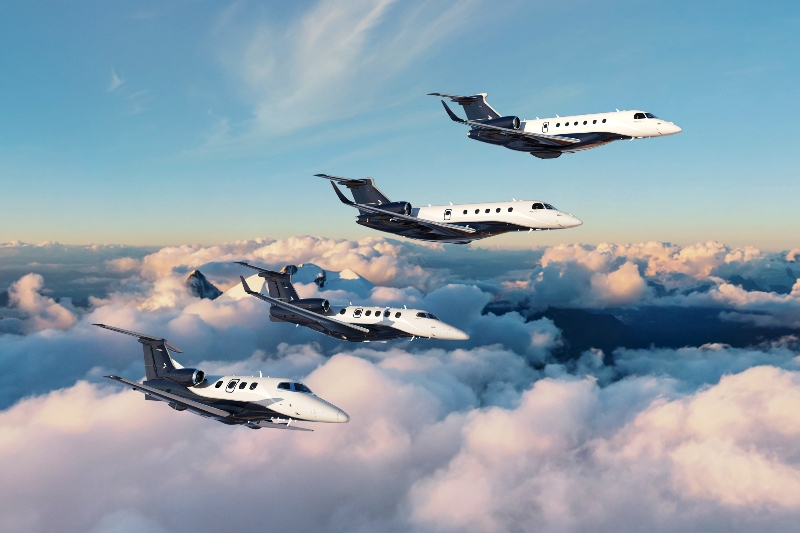 #thenewscompany : As demand for the COVID-19 vaccine transportation increases around the world, Embraer has released technical information to assist customers on how its business jets can be optimized to transport these vaccines. Due to the pandemic, operators are considering the possibility of using Embraer aircraft to transport vaccines. Currently, there are over 1,400 Embraer business jets in operation in more than 70 countries.
"Embraer is deeply engaged in the fight against COVID-19, providing technical information to customers in many segments, always with the main goal of supporting and enhancing our customers' operations," said Sérgio Cunha, Vice President, Embraer Technical Services & Product Support. "This technical information will help customers to develop their procedures in order to carry a large amount of COVID-19 vaccines."
Embraer carried out tests and simulations to properly define characteristics and payload requirements in relation to the technical specifications of vaccine transportation, considering the differences among each aircraft. The transport of these vaccines requires low temperatures, which are achieved by using dry ice.
The documents released by Embraer include guidance for all Embraer business jets models: Phenom 100 and Phenom 100EV, Phenom 300 and Phenom 300E, Legacy 450 and Legacy 500, Praetor 500 and Praetor 600, Legacy 600, Legacy 650 and Legacy 650E, and Lineage 1000 and the Lineage 1000E.
In December 2020, Embraer released technical guidance to assist commercial aircraft customers to properly define the transportation characteristics and payload requirements for the COVID-19 vaccines. Most recently, Embraer also released guidance to apply UV-C lights for cockpit sanitization, as well as disinfectants and coatings for the aircraft interiors.
Embraer has approved the use of MicroShield360™ and Bacoban®, long-lasting preventive coating systems that, when applied to aircraft cabin surfaces, continuously inhibits the growth of microorganisms, viruses and bacteria.
The Company also has released a Service Bulletin that allows ERJ 145 operators to install high-efficiency particulate air (HEPA) filters, which are standard on all versions of the Embraer E-Jets and E-Jets E2 families of commercial aircraft.
HEPA filters are extremely efficient, capturing 99.97% of airborne particles and other biological contaminants, such as bacteria, viruses, and fungi. This technology is also available on Embraer business jets, with HEPA filters also made standard on all Praetor aircraft. The combination of these new features, with the existing cabin environment technologies, equates to a higher level of protection for passengers.
About Embraer Services & Support
The Embraer Services & Support network covers the globe with 77 owned and authorized service centers and two 24/7 Contact Centers at Embraer's Brazil headquarters. The organization employs 2,300 staff, who support 1,700 customers and 5,600 defense, commercial, agricultural, and business aircraft, as well as agnostic services performed by OGMA in Portugal. Spares inventories valued at over US$ 1 billion are distributed among 24 warehouses across five continents. Our professionals are experts in aircraft performance, component repair, parts distribution, training, spares planning, interior modifications, and global logistics. Embraer Services & Support is solution provider designed to deliver a comprehensive portfolio of innovative and competitive services, extending aircraft operational life and maximizing the Embraer fleet's fullest potential. Learn more at https://services.embraer.com.
About Embraer Executive Jets
Embraer is creating tomorrow's world of bespoke private air travel today, utilizing industry-leading innovation, design, and technology — all the while incorporating sustainable practices. As a global company with more than 50 years in aerospace, Embraer delivers the ultimate experience in business aviation through aircraft that feature disruptive performance, comfort, and technology. Its portfolio consists of the Phenom 100EV, which offers the business aviation experience in its purest form; the Phenom 300E, which is the best-selling light jet for the past nine years straight; and the Praetor 500 and the Praetor 600, which with best-in-class flight range, are the most disruptive and technologically advanced midsize and super-midsize business jets, capable of continent-crossing and ocean-spanning missions, respectively. Every day, Embraer business aircraft operate around the globe, supported by a strong, responsive customer support network that's top-ranked in service across the industry. For more information, visit executive.embraer.com.
About Embraer
A global aerospace company headquartered in Brazil, Embraer has businesses in Commercial and Executive aviation, Defense & Security and Agricultural Aviation. The company designs, develops, manufactures and markets aircraft and systems, providing Services & Support to customers after-sales.
Since it was founded in 1969, Embraer has delivered more than 8,000 aircraft. On average, about every 10 seconds an aircraft manufactured by Embraer takes off somewhere in the world, transporting over 145 million passengers a year.
Embraer is the leading manufacturer of commercial jets up to 150 seats and the main exporter of high value-added goods in Brazil. The company maintains industrial units, offices, service and parts distribution centers, among other activities, across the Americas, Africa, Asia and Europe.