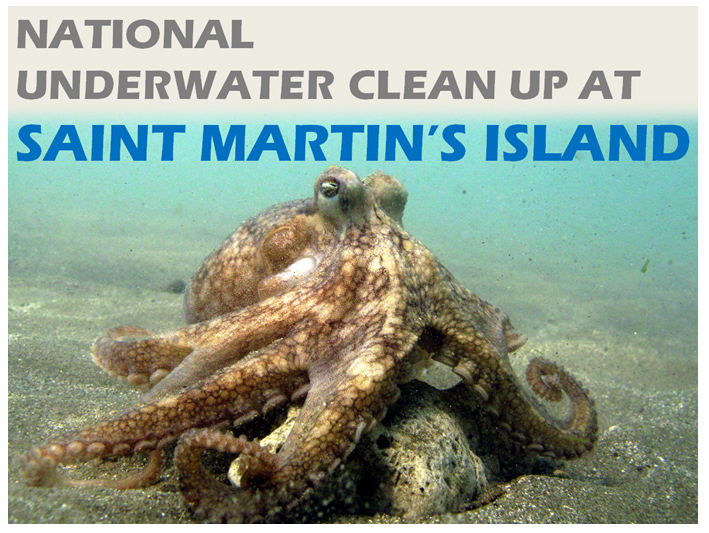 #thenewscompany :  Saint Martin's island in the Bay of Bengal of Bangladesh is an Environmentally Critical Area (ECA), is famous for its coral community, marine invertebrates, Ichthyofauna, marine turtles, cetaceans, seabirds and sea grasses. Massive influx of tourists and dumping waste in the sea causing threats to the corals of Saint Martin's Island. Recent underwater exploration by the scuba divers of Save our Seas (SOS) identified this fact which needs special attention, investigation and take appropriate mitigation measures.Trash in the sea and coast is a serious problem that threatens worldwide human health, wildlife, corals communities and economies.Roughly 80% of this marine debris comes from land-based sources. It is anentirely man-made problem but it is also entirely preventable.
Saint Martin's island is one of the most popular destination for the tourists. But the present mode of operandi in tourism is not eco-friendly and the numbers of tourist influx surpassed the carrying capacity of the island ecosystem. Tourists throw their waste material into the sea directly that affect negatively the marine environment and its biodiversity. Marine debris resulted from human ignorance also hampers the natural food -chain and pyramid, the process by which the sea grass/ green algae and some other micro-organisms use sunlight to synthesize foods from carbon dioxide and water nutrient.
By conducting your own clean-up events, taking the opportunity to raiseawareness and recording data on the trash you collect, you can becomepart of the solution.To keep the natural marine ecosystems function intact and maintain healthy environment of islands ecosystem implementing ofunder water cleanup program is a solution. Narikel Jinjira (Coconut island), popularly known as Saint Martin's island a tiny island of Bangladesh having rich marine biological diversity located at the dead end of Teknaf Upazila separated by estuaries of Naaf river and Irrawaddy river from the main land (Shahpuri and Badarmokam). From the sky it looks like a dumbbell-shaped floating land surrounded by blue water of Bay of Bengal. The island is famous for its corals and mollusk fauna. The beach was used by marine turtles (3 species) during winter quarter as their nesting haven. More than 500 individuals of turtles used to lay their eggs in the sand dunes of the island.The island is an important staging and wintering ground of migratory birds.
This island is also important fish landing harbor and famous for its dried fish like Grouper, Pomfret and ribbon fish.
The island was first inhabited by few fishers (500) during Pakistan regime. At a later stage people from Chittagong and even from Noakhali migrated and settled there. They started cultivating paddy and cereals. They also planted trees like coconut, mango, bamboo and other orchard trees. They introduced freshwater fish, domestic animals and other exotic plants. All the house were simple huts made from leaves of coconut tree, Nipa leaves and keoa leaves. The floor of the house occasionally filled by the coral boulders collected from the beach.
The island was covered by mangrove forest and dune vegetation to a greater extent. Locally the mangroves are coined as "Raha/Para Bon". All most all natural vegetation including mangroves are clear-felled for other land uses. A small patch is still surviving at Seradia area. Prior to massive influx of tourist, the island was visited by fishermen, a few sell collectors and students from the department of zoology. At that time there was no mechanized boat, only a few, small manually operated sailing boats was plying occasionally during winter season. Department of Zoology of different University started study the marine life mostly based on collected specimen. Most of the lab. dissecting material used in the univ. labs like scoliodon and mollusk were collected from this island.
Formal academic research started after an expedition carried out by scientists of various disciple headed my Professor MU Choudhury, leading Geographer of the country just after liberation war.
A book was published in Bangla from the Bangla Academy written by Professor MU Choudhury. Marine Research Laboratory of Cox's Bazaar did some taxonomic work and collected specimen and showcased in their museum. Professor Abu Tayeb of Dhaka University did a comprehensive collection of specimen of mollusk from the island under FAO supported project and identified more than 300 mollusk fauna. Later We at Nature Conservation Movement (NACOM) initiated marine turtle's conservation programme in the island in 1986, IUCN organized coral study and their lead researcher Tom Tomasic recorded 66 species of coral from the island. DOE followed that work and studied island biodiversity under the project CWBMP supported by GEF/UNDP. Several NGOS such as POUSH, CARINAM, CNRS, Marine Alliance and SOS had also joined CWBP as partners MOEF through a gazette notification declared the island as ECA.
At present the land use has changed unprecedentedly, a greater area of the island is under buildings and other concreted structures. All those are nature-unfriendly and violated codes of ECA rules and other environment law of the land. Coral reefs are home to about 25 percent of all known marine species and are used by countless other species at some point in their life cycle. Coral reefs are among the most biologically diverse and productive communities, often referred to as the rainforests of the sea. People benefit from coral reef ecosystems – these ecosystem services include food, income, and protection of coasts from storms. People depend on reefs for food and income, and some them is dependent on coral reefs for their living. Scientists everywhere agree that the health of the coral reef is declining. Climate change, overfishing, pollution, storms, and natural erosion contribute to the poor health of reefs.
To save the marine biodiversity, protect environment and maintain the water quality, pollution abatement, an annual underwater cleanup operation and making people aware about the waste management is urgently required.
Broadly the purpose of the underwater cleanup operation should be as follows:
– Learn about the state, intensity and consequences of waste dumping in the environment of the island
– Make tourist/community aware about the consequences of their ignorance in waste disposal.
– Start direct Physical removal of solid waste dumped around Saint Martin's Island
– Save corals/inter-tidal beach from waste-born pollution and physical damages
– Make skilled human resources through on job training and follow nature-friendly waste collection, transportation, segregation, recycle, reuse and safe disposal outside the island preferably at Badarmokam of Shahpuri Dweep
– organize routine and long term waste management system in built in MPA/ECA of Saint Martin's island
Anisuzzaman Khan / Fellow Ashoka: Innovators for the Public