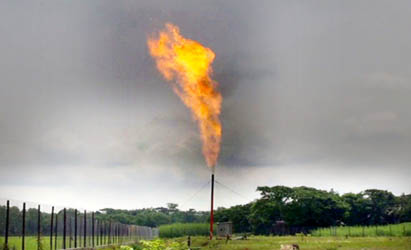 State-run Bangladesh Petroleum Exploration and Production Company Limited (Bapex) had found gas at another layer at the number two well of Comilla's Srikail field.
Bapex Managing Director Mortuza Ahmad Faruque told bdnews24.com the newly found layer was just above the layer discovered on Jul 13 at well number two. It was confirmed at 10:30pm Monday after conducting Drilling Stem Test (DST)."
"DST test has revealed good gas pressure on the upper layer. But it would take several more days to know the reserve," he added.
Bangladesh Oil, Gas and Mineral Resources Corporation (Petrobangla) Chairman Hossain Mansur said the earlier found zone was 26 metre thick while the upper zone, which was discovered Monday, was 48 metres thick.
"We found gas on 760 PSI (Pressure per Square Inch) on the upper zone. We are expecting 17 million cubic feet daily gas (mmcfd) from this layer," he said.
On Jul 13, Bapex announced to have found new gas reserve at the same Srikail well. The Petrobangla chief had then expressed hope of feeding between 16 to 17 mmcfd to the national grid if the reserve proved to be commercially extractable.
The total number of wells in operation in Bangladesh will reach 82 if commercial extraction from well number two commences. In that case, Mansur said, the gas could be supplied to industries, fertilizer and power sectors.
Bapex started drilling at Shrikail in the first week of May to confirm availability of viable gas reserve there. Till Jun 29 they could drill 3,214 metres. Then they did the 'login' (method to determine gas reserve) process for two days. After that Bapex said that there was every possibility of finding gas reserve there.
In 2004, the oil and gas exploration agency drilled the first well at Shrikail but failed to find any gas reserves.
A subsidiary of Petrobangla, Bapex began work on the second well in the area after three-dimensional survey showed potential gas find there. It was believed then that there would be a reserve of 500 billion cubic feet gas there.
The expenditure of 'Srikail Oil/Gas Exploration Well Digging' project has been assessed at around Tk 811.2 million.
Petrobangla Chairmna said currently more than 2,200 million cubic feet gas was being supplied every day against a daily demand of 2,700-3,000 million cubic feet.
The primary gas reserve in Bangladesh (proved and probable) is estimated around 20.62 trillion cubic feet. Around 10.74 trillion cubic feet gas had been extracted by December 2011. So, the current gas reserve is around 9.87 trillion cubic feet.
Bapex has so far discovered three gas fields. It found gas reserve at Shahbazpur in Bhola district in 1995, at Salda in Brahmanbaria district in 1996 and at Sundalpur in 28 Aug 2011.
Source : Energy Bangla