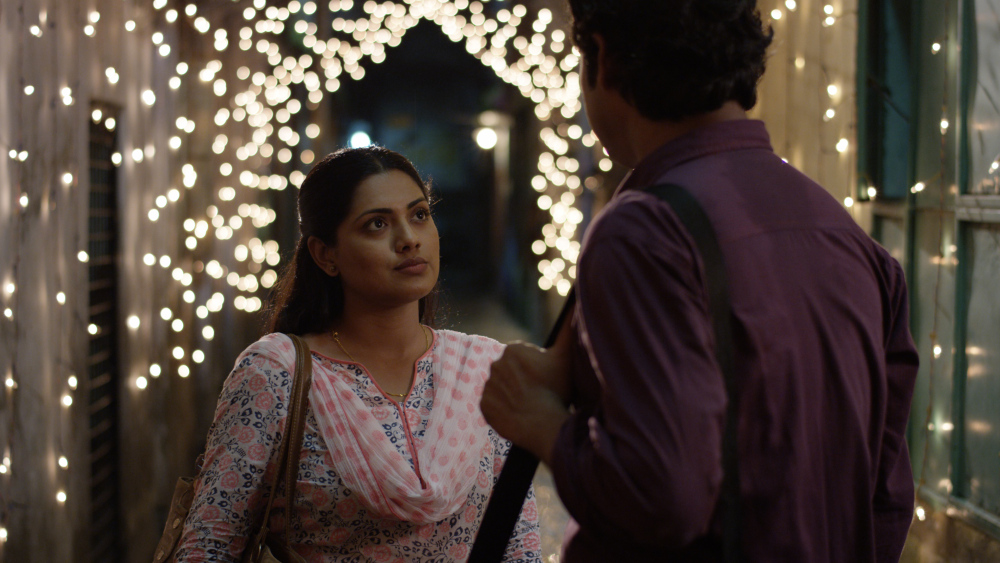 #thenewscompany : BIFF Highlights Sincerely Yours, Dhaka,  The year 2018 will be recorded as the year an unusually high number of omnibus projects were made in Asia, from the Ten-Year International Project involving Thailand, Taiwan and Japan, to HBO Asia′s omnibus focusing on fear, and many other projects in the planning stage to be unveiled. Among them, Sincerely Yours, Dhaka, involving 11 young directors from Bangladesh, is unique in many ways. The main character of the movie is Dhaka, the capital city of Bangladesh. It is the first omnibus film produced in Bangladesh and in its completed form is a love letter to the city. Considering the relatively weak foundation for arthouse and independent films in Bangladesh, this is a very meaningful and courageous attempt to be applauded. Abu Shahed Emon, participating as a creative producer, is from the Asia Film Academy of BIFF, and with Jalal's Story, he was invited to New Currents in 2014. With the young and talented directors of the film, these filmmakers are expected to lead the future of Bangladeshi cinema. Characters and stories of each segment harmonize well, making it an interesting and different omnibus.
Bangladesh is looking to discover the next generation of filmmaking talent with the country's first anthology film, "Sincerely Yours, Dhaka," that has its world premiere at Busan's A Window on Asian Cinema strand. The film is executive produced by Faridur Reza and Ebne Hasan Khan for leading Bangladeshi studio Impress Telefilm.
"Dhaka" is a collection of 11 shorts set in Bangladesh's capital city by 11 emerging filmmakers: Nuhash Humayun, Syed Ahmed Shawki, Rahat Rahman Joy, M.D. Robiul Alam, Golam Kibria Farooki, Mir Mukarram Hossain, Tanvir Ahsan, Mahmudul Islam, Abdullah Al Noor, Krishnendu Chattopadhyay and Syed Saleh Ahmed Sobhan.
The project is the brainchild of "Dhaka" creative producer Abu Shahed Emon, a directing masters graduate of the Korea National University of Arts. His debut feature, 2014's "Jalal's Story," was Bangladesh's entry in the Oscar foreign-language category and was nominated for the New Currents Award at Busan.
"The idea was with me for quite some time," Emon told Variety. "While studying in film schools in Australia and South Korea I always wanted to come back to Bangladesh and work in the local film industry and collaborate with my fellow filmmakers. Although my primary identity is to work as a writer, director but producing is something, which always attracted me. I believe this is a great opportunity to collaborate with young filmmakers and bringing Bangladeshi films to an international platform."
The idea came together in 2017 at Busan's Platform, an initiative designed to build a network of Asian filmmakers, where Emon chaperoned a group of rising talents from Bangladesh. Upon returning to Dhaka, he pitched the idea to Impress, who immediately green lit the project.
The idea of 11 came from 1972's "The 11," the then newly independent Bangladesh's first feature film that focuses on the country's war of liberation; and the number of players in cricket and soccer teams, the country's most popular sports.
"I chose the directors based on their previous works in television," says Emon. "Some of them are quite active in television commercials and some of them had some critically acclaimed single episode TV fictions to their names already. I approached each of them individually and slowly the team building process got finished."
Workshops began in December 2017, the scripts were finalized by March 2018 and the project went into production in mid-April. The shoots and post-production were completed in five months.
The stories in "Dhaka" deal mostly with people on the margins of Bangladeshi society. "I believe the reflection or reality of an entire nation can't be portrayed in one film," says Emon. "But yes, the kinds of suppressions that you see in this film can be a cultural truth for Dhaka. The entire story that has been chosen has a close realistic portrayal of characters living in modern Bangladesh. It is also a reflection of the individual segment director's own vision."
The film, which features a galaxy of Bangladeshi stars including Nusrat Imrose Tisha, Fazlur Rahman Babu and Shatabdi Wadud, begins on a light note. The stories, set in various strata of the teeming, densely populated metropolis of 19 million people, get progressively darker and the anthology ends with a rousing feminist tale.
"I think from the surface Dhaka has a fun, caring and loving characteristic but it can be brutal and dangerous at the same time," says Emon. "So the progression that you see in the film from lighter to darker was a conscious choice of mine to slowly describe the vibe of the city."
The next iteration of the anthology will consist entirely of films by women filmmakers. Though there is no theme decided yet, the idea is to find stories that cannot be told by male filmmakers.
"Dhaka" will get a theatrical release in Bangladesh in early 2019. Emon will go into pre-production on his next feature "A Foolish Man" in December, with a view to filming in 2019. He is also writing another film set in South Korea.
Director
Nuhash HUMAYUN, Syed Ahmed SHAWKI, Rahat RAHMAN, MD Robiul ALAM, Golam Kibria FAROOKI, Mir Mukarram HOSSAIN, Tanvir AHSAN, Mahmudul ISLAM, Abdullah Al NOOR, Krishnendu CHATTOPADHYAY, Syed Saleh Ahmed SOBHAN
Producer
Abu Shahed Emon / Ebne Hasan Khan / Faridur Reza Sagar Sagar
Cast
Nusrat Imrose Tisha / Orchita Sporshia / Allen Shuvro / Shamol Mawla / Shahtaj Monira Hashem / Manoj Kumar Pramanik / Tropa Majumdar / Intekhab Dinar / Iresh Zaker / Mostafa Monwar
Cinematography
Barkat Hossain Polash ,Murshed Bipul ,Tanveer Ahmed Shovon ,Tuhin Tamijul ,Farhad Hassan Ziko ,Khair Khandaker ,Ishtiaque Hossain
Production Company Impress Telefilm Limited
Source : Variety Magazine , BIFF Official PR