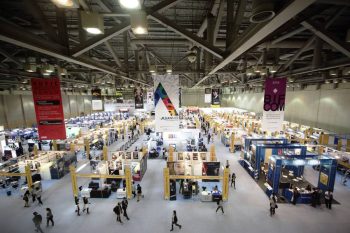 #thenewscompany : The Asian Contents & Film Market (ACFM) 2022, which will take place for four days from Oct 8 (Sat) to Oct 11 (Tue) at the Busan Exhibition and Convention Center (BEXCO), introduces Busan Story Market, the world's first IP content sales market. Introducing the New IP Sales Platform, Busan Story Market, ACFM 2022 is Reopening in Earnest with the Resumption of Film Production Support Programs!
With the official launch of 'Busan Story Market,' which intends to strengthen the IP content sales market, the ACFM 2022 is announcing its much-awaited return after three years of COVID-19.
ACFM's newly introduced Busan Story Market is an IP sales market where stories, the foundation for all content, are sold and purchased to be reproduced on various platforms. This new platform has adopted and integrated the function of the E-IP Market (Entertainment Intellectual Property Market), which was established in 2012 and has selected 192 IP submissions over the past 10 years. While the original E-IP Market only provided business pitching opportunities for the selected IPs, Busan Story Market provides the opportunities to conduct on-site B2B transactions for all businesses through sales booths. This new platform is drawing attention as an expanded trading platform where domestic and foreign content-related organizations and Content Providers (CP) can conduct direct trades on various intellectual properties, including, but not restricted to, books, webtoons, web novels, games, and stories.
Furthermore, Busan Story Market will cooperate with its official partners, Taiwan Creative Content Agency (TAICCA) and Japan's Visual Industry Promotion Organization (VIPO), as well as receive book IPs from its ASEAN counterparts in Thailand, Vietnam, and Indonesia to further expand its IP resource. In addition, with domestic and foreign content-related organizations such as the Seoul International Book Fair and the Busan IT Industry Promotion Agency, a large number of domestic publishers and webtoon/web novel producers are expected to participate in the market that will boast an enriched IP lineup.
A total of 201 projects from 70 companies were recorded during the original Korean IP submission period, which was opened from May 23 (Mon) to June 10 (Fri). This year's submissions more than doubled the number of last year's submissions of 94 projects from 40 companies. The high level of interest in the Busan Story Market is reflected in the increased number of this year's submissions.
Announcing its first launch this year, the Busan Story Market aims to build its position as the world's largest IP Market and networking platform, based on the market's meticulous strategy and mid- to long-term goals.