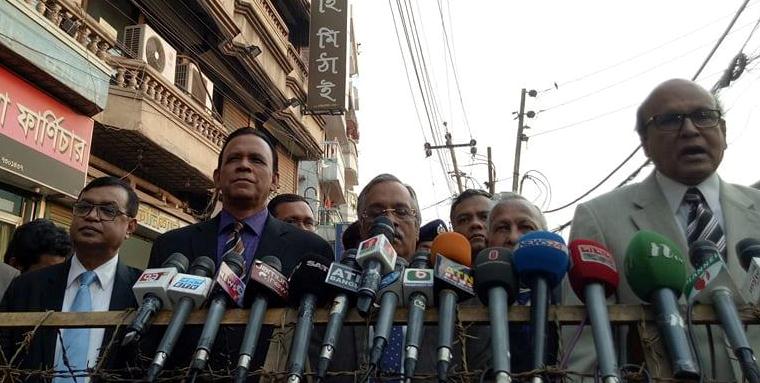 #thenewscompany : BNP Chairperson Khaleda Zia on Sunday wanted to know from her lawyers the reason behind the delay in her gaining bail from the apex court long after she has been convicted for five years, said a counsel.
"Madam (Khaleda) wanted to know from us why she is not getting bail when the High Court used to grant bail to those convicted for five years soon after they move it," said Supreme Court Bar Association secretary Mahbub Uddin Khokon after meeting the BNP chief in jail along with five other lawyers.
He said Khaleda also wanted to know from them the reason behind the stay of her bail by the Appellate Division. "We couldn't give any answer to her question."
Khokon said the BNP chief told them that all the cases were filed against her as part of a plot centring the next general election though she did not indulge in any unfair act.
The six lawyers — Jamiruddin Sircar, Abdur Rezzak Khan, Khandaker Mahbub Hossain, Mohammad Ali, SCBA president Zainul Abedin and Khokon — entered the old central jail at Nazimuddin Road in the city around 3:45pm and came out of it around 5:15pm after meeting Khaleda.
Later, talking to reporters, the SCBA president said BNP chairperson Khaleda Zia is physically fine and mentally very strong.
He said the BNP chairperson's moral got stronger further as her party-backed panel won the SCBA polls.
Zainul said Khaleda greeted them for their success in the SCBA polls held last week. "As the lawyers ensured the victory of the nationalist force, if you all remain united, the nationalist force will win in any other election in the days to come," Zainul quoted Khaleda as saying.
He said the BNP chief also praised the role of the lawyers they have been playing in the court.
The SCBA president said they assured the BNP chief that they will win the legal battle foiling the government's all plots against her. "We told her that we'll be able to ensure her release from the jail through the legal battle."
Asked whether the BNP chief told them anything about the British lawyer appointed recently to face her cases, Zainul said Khaleda told them that she has enough confidence in the senior lawyers dealing with cases here.
Khandaker Mahbub said they did not discuss political issues with her during the meeting. "We told her that the government won't be able to keep her in jail in the false case if the rule of law persists in the country."
On February 8 last, a special court here sentenced Khaleda to five years' imprisonment in the Zia Orphanage Trust graft case.
Khaleda, a 73-year-old former prime minister, was taken to the old central jail minutes after the verdict had been delivered.
Source : UNB