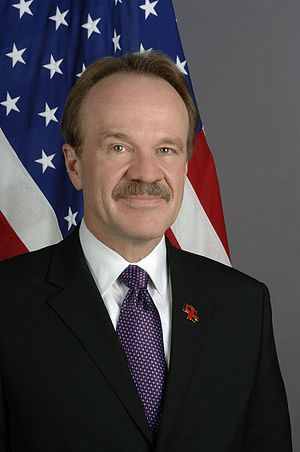 US Ambassador Dan Mozena called on Bangladesh Bank (BB) Governor Atiur Rahman at his central bank office in the capital Dhaka on Sunday.
Tobias Glucksman, Deputy Political and Economic Counselor, and Hassan Zaman, Senior Economic Adviser to the Governor also participated in the discussion, a BB press statement said.
"The two hours meeting centered on current macro-economic trends and issues as well as Bangladesh's medium term growth prospects and opportunities," it noted.
The US envoy was appraised of the recent Monetary Policy Statement and how the monetary stance aims to reduce inflation to single digits, arrive at new external sector equilibrium as well as provide sufficient credit for growth-enhancing productive investments.
"Discussions on strengthening Bangladesh-US trade, investment and economic cooperation focused on the importance of relieving infrastructure bottlenecks, further strengthening Bangladesh's image as an investment destination and increasing demand for Bangladeshi products. Specifically the prospects for expanding Business Process Outsourcing (BPO) from the United States were discussed and how this trade in services could become one of the key engines of export-led growth in Bangladesh," the statement said.
The ambassador expressed tremendous optimism for Bangladesh's medium-run prospects saying it has all the potential to become one of the fastest growing countries in the world.
Source : BBN