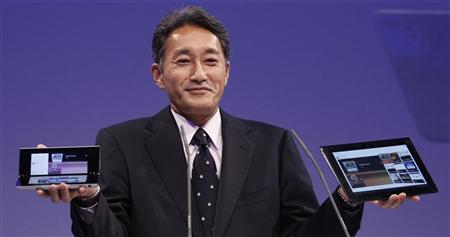 Sony Corp named Kazuo Hirai as chief executive, succeeding Howard Stringer at the helm of the iconic gadget maker as it struggles with persistent losses and stalled efforts to re-energize its once-dominant brand.
Hirai, a 28-year company veteran known for overseeing the phenomenal rise of the PlayStation gaming system in the United States, takes over as CEO and president on April 1.
Hirai, 51, was effectively anointed as Stringer's successor last March when he was promoted to head the company's consumer products and services businesses, which produce the bulk of Sony's $85 billion in annual sales.
"They've been grooming him for a while," said Dan Ernst, Hudson Square analyst. "I think he will carry on the plan for Sony — as difficult as it is."
That plan hinges on turning around the company that has come under fire for losing the innovative edge behind products like the Walkman and Playstation, and ceding ground to rivals such as Apple Inc and Samsung Electronics as consumers snapped up their iPhones, iPods and Galaxy gadgets.
A chief concept in the strategy hinges on merging Sony's robust roster of entertainment properties — including singers Kelly Clarkson and Michael Jackson, and the "Spider-Man" and "Men in Black" film franchises — with its Vaio, Bravia and other electronics brands, in an effort to boost sales.
"He is fully on board with that plan," Ernst said of Hirai. "He implemented a lot of that in the PlayStation group and probably more than anyone at Sony."
Sony announced the changes ahead of its earnings report on Thursday, which is expected to show a net loss for the fourth year in a row as its TV division bleeds red ink.
The last year has been brutal for many Japanese companies, hit by a strong yen that hurt exports, and two natural disasters — the March earthquake in Japan and record floods in Thailand.
Stringer will remain chairman of the company until June, when he will become chairman of the board of directors, a separate post that will not be directly involved in company management, Sony spokeswoman Mami Imada said. The are no plans to replace him in the chairman's role, she added.
The urbane Hirai will have to plot a course to revitalize the electronics giant as consumers lose interest in its products and gravitate instead towards smartphones and tablet PCs from other brand names.
Sony's shares have lost nearly two-thirds of their value since Welsh-born Stringer, who turns 70 later this month, took the helm as CEO and chairman in 2005 and the role of president in 2009.
In contrast, Apple shares have bounded ahead more than 1,000 percent, while Samsung, a maker of smartphones, flat panels and computer chips, is up more than 100 percent over the same period.
ANOINTED SUCCESSOR
Hirai made his name in the PlayStation video games division, once a key profit driver for Sony that fell into the red for four consecutive years until he took the reins and pulled it back into the black two years ago.
"The path we must take is clear," he said in a statement on Wednesday. "To drive the growth of our core electronics businesses — primarily digital imaging, smart mobile and games; to turn around the television business; and to accelerate the innovation that enables us to create new business domains."
Stringer, a former journalist who ran U.S. broadcast company CBS, was brought in as a rare foreign CEO at a top Japanese company to shake things up and restore its innovative edge in consumer electronics. Many analysts, however, see his major achievement as cost cutting.
Stringer's restructuring efforts included selling off TV factories in Spain, Slovakia and Mexico and outsourcing more than half of its production to other companies, including Hon Hai Precision Industry, the contract electronics maker that also has Apple as its key customer.
In recent months, Sony exited an LCD panel joint venture with Samsung, which will allow it to procure screens for its TVs more cheaply.
It also agreed to buy out Ericsson's half of their smartphone venture for $1.5 billion to shore up its position in a market where Apple and Samsung have become leaders.
Sony's share of the flat-panel television market has been eroded by the rise of Samsung and a host of nimbler Asian players, while a hacking scandal last year undermined confidence in its management.
Many of Japan's other electronics titans have also stumbled in recent years. In the current reporting season, Nintendo and Sharp Corp both issued bigger-than-expected loss projections for the full year.
South Korean rivals such as Samsung have been particularly aggressive in investment and blessed with favorable currency movements, while Apple has stolen much of the innovative thunder that once emanated from Japan.
Sony reports third-quarter earnings on Thursday, when it is also due to brief the media on the management reshuffle.
Source : Reuters