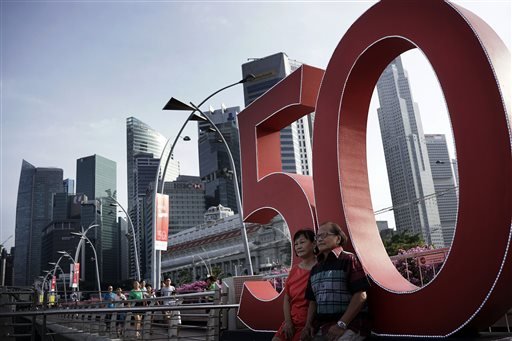 e-News® | The NEWS Company…Singapore, August 09, 2015 : About 250,000 spectators expected to take part in festivities marking five decades since island became republic in 1965. Singapore is marking 50 years since independence with nationwide celebrations, including a huge military parade and firework display that will also pay tribute to former founding leader Lee Kuan Yew. About 250,000 spectators are expected to take part in the festivities, among the largest in the city state's history.
The procession, which will be capped by a huge fireworks event, is the high point of a jubilee year largely choreographed and funded by the government, which is expected to call for general elections soon in a bid to extend its rule against a divided opposition. Singapore became a republic on August 9, 1965, when it was ejected from the Malaysian federation following a stormy two-year union. The celebrations kicked off on Sunday morning when sirens blared at 9am (01:00 GMT) before national TV and radio stations broadcast a 2012 recording of Lee Kuan Yew rereading the original declaration of independence.
"At 50 years, as we stand at a high base camp, we look back and marvel at how how far we have come," Prime Minister Lee Hsien Loong said in a televised message.
Defamation laws
Lee, who was prime minister for more than three decades, had little tolerance for political dissent. Opposition figures were either defeated in elections or taken to court on charges of defamation until they were bankrupt. The country's laws prohibit bankrupts from contesting elections. His son, Prime Minister Lee Hsien Loong, faces a general election expected to be held September 12. The ruling People's Action Party, which holds 80 out 87 Parliament seats, suffered its worst results in 2011 elections.
Most of the mainstream media are controlled by government-linked companies, and the few independent news websites are wary of strict defamation laws that government leaders have often used to silence critics. The Reporters Without Borders' 2015 World Press Freedom Index ranked Singapore 153rd of 180 countries, below Gambia and the Democratic Republic of Congo. During the celebrations, the prime minister will be joined by leaders of Association of Southeast Asian Nations for the parade at the landmark Padang grounds, facing scenic Marina Bay.