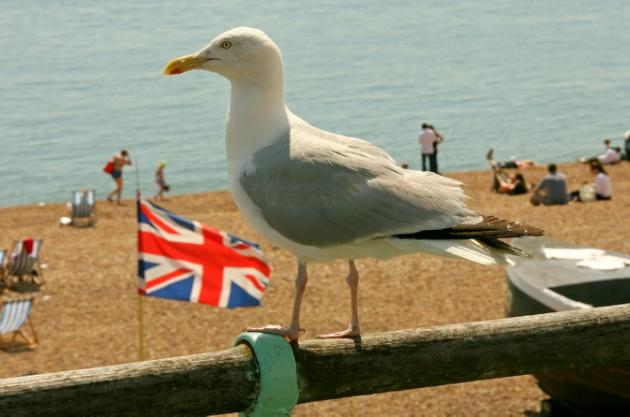 e-News® | The NEWS Company…BRIGHTON, United Kingdom, Aug 9, 2015 : A familiar presence at Britain's seaside resorts, seagulls have this summer spread fear after ambushing holidaymakers as they tuck into their fish and chips, and even attacking pets. The country's tabloid newspapers have had a field day, with headlines including: "Seagull stole my iPhone" (The Sun), "Moment killer seagull turns cannibal" (The Daily Mail) and "Psycho seagulls keep out illegals" (Daily Express). Even the broadsheets have joined in, with The Sunday Times warning that "Gull gangs learn new tricks to steal your seafront snacks".
The squawking menaces have always had a bad reputation as scavengers. But the gulls are now apparently growing in audacity and rather than feeding on leftovers, are deliberately targeting people's fish and chips, the battered haddock or cod combination traditionally eaten by holidaymakers, as they tuck in. "They've been trained by terrorists, I'm sure," said Cliff Faires, owner of a seafood kiosk in the historic south coast resort of Brighton. A sign outside his Brighton Shellfish and Oyster Bar warns: "Seagulls will snatch your food. Please be aware. We don't take any responsibility for this action".
– 'Never been so bad' –
Local witnesses described a common plan of attack used by the birds, whereby a lone assailant pounces on an unsuspecting diner, forcing them to drop their food. At this point, hordes of reinforcements arrive to feast on the spilt remains. "They'll eat everything except lemon and tabasco," one added.
"I see gulls grabbing food from people three or four times a day, more when it's sunny," said Chris, who works at a fish-and-chip kiosk on Brighton pier. "The worst thing I've seen is one landing on the head of an old lady who had a hot dog. She obviously dropped it and the same gull took it away really fast, the woman was terrified," he told #thenewscompany.
"It's never been as bad. This is the worst year," said Jack Messenger, from the Sea Haze Bar, another beachfront restaurant. "It's probably best for us, because when the seagulls eat their food, they (the customers) come and get more," he joked. It is not only seaside towns that are suffering, with inland cities such as Bath and Bristol reporting problems. Experts blame a combination of factors for this summer's Hitchcockian events.
They include gulls becoming more accustomed to living close to humans and the birds being particularly aggressive in July when they have young in their nests. Three pets have been pecked to death by seagulls in southwest England in recent months: a turtle, a chihuahua and a Yorkshire Terrier. "Blood was coming out of his head. It was like a murder scene," the Yorkshire Terrier's owner Emma Vincent told reporters.
– Hysteria 'not justified' –
Even Prime Minister David Cameron has swooped into the debate. "I think a big conversation needs to happen," he said. "Reading the papers this morning about how aggressive the seagulls are now in St Ives, for instance, we do have a problem." It is forbidden to kill seagulls, so the only way to fight them is to destroy their eggs or release birds of prey to hunt them. Tony Whitehead, spokesman for the Royal Society for the Protection of Birds, said he "didn't think the hysteria is justified".
"There is an issue… but to demonise the whole species off the back of a few incidents, I don't agree with that," he told AFP. Pete Rock, an expert on urban gulls, called for further study using advanced technologies instead of destroying their eggs. "They know everything there is to know about their home range, where all the food is, and where to go and mate," he told AFP. "What we don't know, is what they know, and the only way to find that out is to use satellite telemetry." Laura Mayes, a councillor in southwest England, highlighted another problem encountered with nesting gulls.
"What has really affected us is noise. They fly over the houses of the neighbours crying 24 hours," she said. "No way we would allow neighbours to have parties all night, but that's exactly what it means to have gulls living near people."