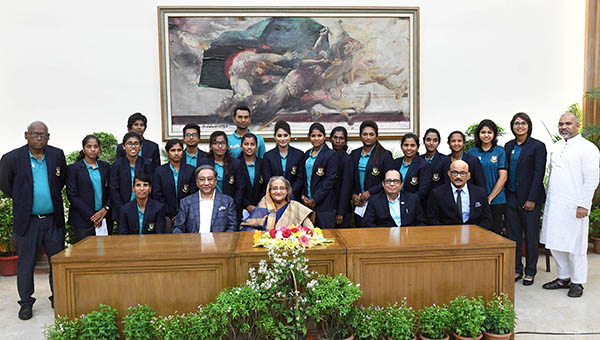 #thenewscompany : Prime Minister Sheikh Hasina today hoped that the women cricketers of Bangladesh would continue their success in future as they showed excellence in the Asia Cup T-20 tournament.
"I hope that you will not go behind the success that you have showed in the Asia Cup and you have to be steadfast determination to win over any race in days ahead," she told the cricketers in a reception accorded to them on their winning of the title of the Asia Cup T-20 Tournament.
The women's team defeated six-times champions India by three wickets in the final match held in Kuala Lumpur on June 10, 2918 to claim their maiden title.
Expressing her firm commitment to remain beside the women cricketers, the prime minister said the government has taken plan to introduce cricket tournaments in all districts as like as football.
Hoping that more players would be encouraged by the Asia Cup success of the Bangladesh team, she said players should be enthusiastic in their wins, but should not be disheartened in their defeats.
Sheikh Hasina said her government wants the country's young folks to go ahead successfully in all spectrum including sports and cultural arenas.
State Minister for Sports Biren Sikder, President of Bangladesh Cricket Board Nazmul Hasan Papan and Captain of the cricket team Salma Khatun spoke, among others, on the occasion.
The prime minister gave a reward of Taka two crore to the players, coaches, manager and physiotherapist of the team.
The prime minister said once it was a difficult time for women of Bangladesh to take part in sports as they could not play football in Rajshahi in 2004.
After coming to power the present government has introduced gold-cup football tournament in the name of Father of the Nation Bangabandhu Sheikh Mujibur Rahman and Bongamata Sheikh Fazilatunnesa Mujib, she said.
Pointing out the steps taken by her government for empowerment of women in different sectors, the prime minister said her government had to work hard to promote women in different important positions of the government offices as it was very unusual in the country.
The prime minister hoped that girls would be able to do better in the global arena than boys and they have proved in the cricket that they can.
The prime minister urged the players to continue their hard practice hoping that the success of the women cricketers would encourage others to come to sports.