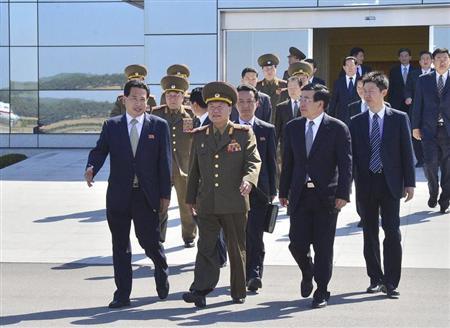 An envoy of North Korean leader Kim Jong-un told a senior Chinese leader on Thursday that North Korea is willing to take China's advice to start talks to resolve tension on the Korean peninsula, China's state television reported.
But talks seem unlikely as North Korea has repeatedly said it will not abandon nuclear weapons while the United States insists North Korea must take meaningful steps on denuclearization before there can be talks.
The offer by Choe Ryong-hae, a top military official in North Korea, to Liu Yunshan, the Chinese Communist Party's fifth-ranked leader, come as tension has mounted between China and North Korea.
Their ties have been hurt by the North's third nuclear test in February, despite China's disapproval, and by China agreeing to U.N. sanctions on the North in response and starting to put a squeeze on North Korean banks.
The North Korean envoy told Liu that Kim had sent him to China "to improve, consolidate and develop ties between China and North Korea". Choe was accompanied by a high-powered delegation on a trip that appeared to be a bid by North Korea to mend frayed relations with its most important ally.
"North Korea lauds China's enormous efforts to maintain peace and stability on the Korean peninsula and push for a return to talks and consultations for the problems of the Korean peninsula, and is willing to accept China's suggestion to have talks with all parties," Choe told the Chinese official, according to China's state broadcaster CCTV.
Liu, who is also China's propaganda tsar, told the North Korean envoy that "peace and stability on the Korean peninsula accords with the interests of all countries in the region."
"We hope that all sides uphold the aim of denuclearizing the Korean peninsula, maintain peace and stability and the using of dialogue and consultation to resolve problems, take practical steps to ameliorate the tense situation … to restart six party talks as soon as possible and work hard for long-lasting peace and stability in northeast Asia and on the Korean peninsula."
Beijing has repeatedly urged North Korea to return to the so-called six party talks process, aimed at denuclearization.
The talks included the North, China, the United States, South Korea, Japan and Russia and have been stalled since 2009 when North Korea conducted its second nuclear test.
Choe said North Korea was willing to work with China to push for the development of bilateral ties.
"North Korea hopes to concentrate on the economy and improve people's livelihoods and is willing to create a peaceful foreign environment," Choe told Liu.
Choe's comments came on the second day of his trip to China. He has also met Wang Jiarui, head of the ruling Chinese Communist Party's International Department, a frequent conduit for communication between the two sides.
Choe is one of the tight coterie of officials around Kim Jong-un, who has been in power for just over a year after succeeding his father.
The envoy is a long-time political administrator and was surprisingly made a vice marshal in the army last year despite having no military background.
Source : Reuters