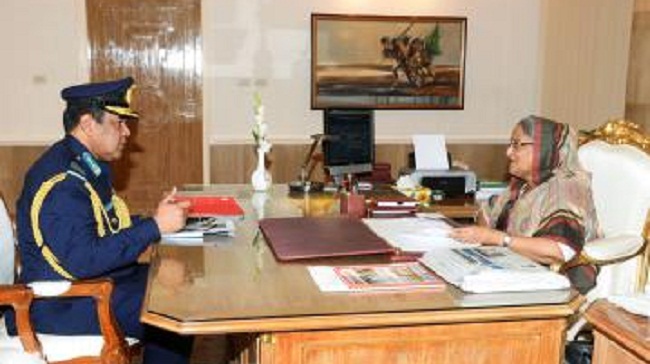 e-News® | The NEWS Company…DHAKA, July 02, 2015 : Newly appointed Chief of Bangladesh Air Force Air Marshal Abu Esrar made a courtesy call on Prime Minister Sheikh Hasina at her Tejgaon office here yesterday.
It's the first official call on of the air chief with the Prime Minister after taking office on June 12, 2015. PM's Press Secretary Ihsanul Karim said the Prime Minister greeted the new air chief and assured him of all government support to build a modern, time-befitting and global standard air force in Bangladesh.
Sheikh Hasina praised the role of Bangladesh air force in safeguarding the independence and sovereignty of the country and tackling various natural disasters and provide humanitarian services to the people. Sheikh Hasina hoped that every member of the Bangladesh Air Force under the leadership of the new air chief would work for national development keeping their unwavering confidence in the constitution and spirit of the War of Liberation.