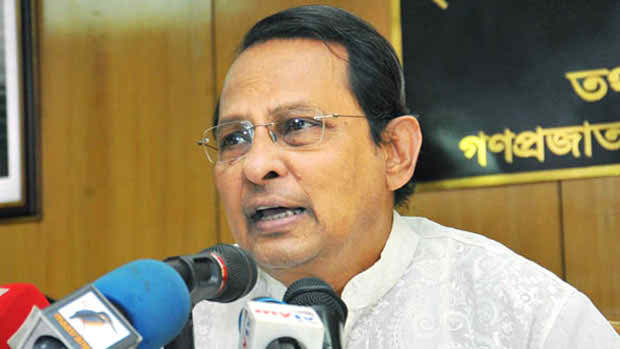 e-News® | The NEWS Company…DHAKA, Jan 16, 2015 : Information Minister Hasanul Haq Inu today said the people seeking dialogues with the BNP to overcome the current situation are not forces of democracy rather they favour military rule and war criminals.
"None can maintain neutrality in the present situation. Everybody will have to take side either with pro-liberation forces or the war criminals," he said while speaking as chief guest at the prize giving ceremony of Chairman Gold Cup Football Tournament-2015 and inauguration of AKM Rahmat Ullah Stadium at Beraid under Badda police station in the city. Beraid Krirasangstha organized the discussion meeting and prize giving ceremony with organization president and Beraid Union Parishad Chairman Haji Jahangir Alam in the chair.
The function was also addressed, among others, by Chairman of Parliamentary Standing Committee on Information Ministry Freedom Fighter AKM Rahmat Ullah, JSD Public Relations Secretary and Dhaka City Unit President Freedom Fighter Shafi Uddin Mollah, Beraid Union Awami League President Abdur Rahim Shaikat, General Secretary Ayub Ali Mintoo and others.
Inu, also president of Jatiya Samajtantrik Dal (JSD), alleged that BNP Chairperson Begum Khaleda Zia is hatching a deep-rooted conspiracy to assume power and she wants power at this moment.
"Khaleda Zia now becomes mad and even her main agenda is saving war criminals from death sentence," the minister said. He said, "I am not neutral, I am in favour of the Liberation War and democracy because I fought against Pakistani and defeated Pakistani."
"We are in favour of the constitution and democracy under the leadership of Prime Minister Sheikh Hasina while Khaleda Zia is with anarchists, militants and war criminals," Inu added. He, however, said razakars and war criminals will have to be eliminated forever from the soils of Bangladesh.