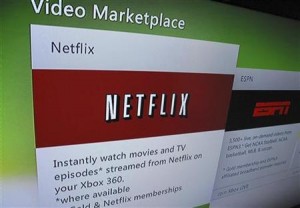 Netflix launched in Britain and Ireland on Monday, taking on BSkyB's premium drama and movies offerings and prompting Amazon-owned rival Lovefilm to offer a new cut-price service.
In its first expansion outside the Americas, which the company has said will push it into a loss this year, Netflix said its prices and instant access to a broad range of online entertainment would attract new customers.
Lovefilm, which has 2 million customers in its core British market, immediately announced Lovefilm Instant — an internet streaming-only offer to undercut Netflix — in addition to its current offer that combines streaming and DVD rental by post.
Netflix shares rose 2.4 percent to $88.33 by 1516 GMT, while the Nasdaq was barely changed. Amazon shares fell 0.9 percent to $181.01.
"People are excited about the UK launch even though it had been in the works for some time," said Daniel Ernst, of Hudson Square Research.
Netflix Chief Executive Reed Hastings told Reuters in an interview that BSkyB would be its main competition.
"Lovefilm is not the enemy. When you talk about big entertainment businesses, Sky Atlantic and Sky Movies are huge, and our advantage is we are much lower priced than the Sky packages, and it is all on demand — click and watch," he said.
Netflix is trying to recover from the roughest patch in its history after alienating U.S. customers with a 60 percent price rise in the third quarter in an attempt to cover the increasing costs of buying TV and film content.
Co-founded by Hastings in 1997, Netflix created the U.S. market for DVD rental by post but has suffered more recently as it shifts to lower-margin instant online delivery.
Nonetheless, Hastings said Netflix had no option but to press ahead aggressively with the new delivery technology, describing DVD postal delivery as being "a little bit like travelling by horse and buggy."
"In the long term, Internet TV — the idea that you can click and watch anything you want — is such a powerful concept that we are investing heavily," he said.
Hastings said Netflix had begun to regain U.S. subscribers last quarter. "What we said a quarter ago was that it was going to turn up in the back half of Q4, and everything has been consistent with that," he said.
But he declined to say whether the company would turn profitable again during the course of 2012. "I cannot comment," he said. "We are really focused on this global expansion and it is expensive."
NO FRESH CAPITAL
Netflix is offering unlimited online access to tens of thousands of hours of movies and drama for 5.99 pounds ($9.20) per month in Britain and 6.99 euros ($8.90) in Ireland, plus a month's free trial.
The new streaming-only package from Lovefilm, which said on Monday it had had a record number of subscribers signing up in the fourth quarter, will cost 4.99 pounds per month.
In the United States, cable and satellite TV providers are under pressure from streaming services such as those provided by Netflix, with many viewers giving up expensive subscriptions in favor of Internet-based content streamed to their PC or TV.
But so-called over-the-top providers such as Netflix struggle to compete with the quality of programs provided by Time Warner, CBS and Viacom. Netflix has said its U.S. content costs will almost double this year.
Hastings said, however, he did not expect to need to raise more capital this year, after raising $400 million in fresh capital in November. "No. We are doing great," he said.
BSkyB charges 20 pounds per month for an entertainment package that includes Sky Atlantic, a U.S.-focused drama channel launched a year ago that includes exclusive rights to HBO's back catalogue, including the popular Game of Thrones.
Europe's biggest satellite broadcaster demands that customers sign up for contracts, and have a set-top box and connection to a Sky dish. Sky Movies costs 16 pounds per month on top of the basic TV package.
Both Netflix and Lovefilm can deliver their content via a wide range of Internet-connected devices such as games consoles, tablets and Blu-ray players as well as computers and smart TVs.
Netflix said its personalized interface, in which viewers will be offered programs depending on their past viewing and can see what their friends like and are watching if they sign up via Facebook, could help give it an edge.
It will offer films and TV programs from such providers as the British broadcasters BBC, Channel 4 and ITV and movie studios including Disney, Viacom-owned Paramount, and Twentieth Century Fox.
Hastings said Netflix, which until now has been available in the United States, Canada and 43 countries and territories in Latin America and the Caribbean, would not necessarily push into more markets this year.
"I am not sure about this year. For now we are focused on the UK and Ireland," he said.
Source : Reuters