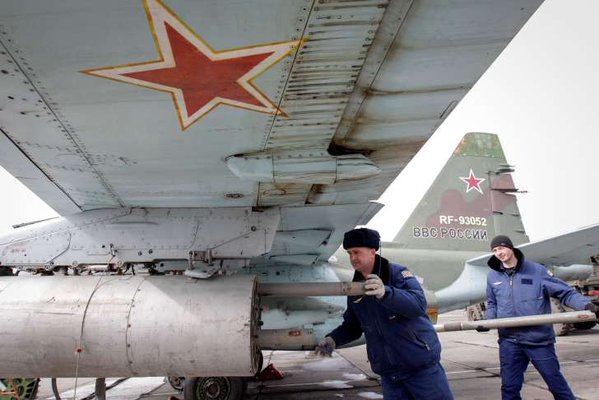 e-News® | The NEWS Company…BEIRUT, Oct 30, 2015 : Russia launched a campaign of air strikes in Syria in support of President Bashar al-Assad on September 30, providing air cover for government offensives in several provinces. One month into the campaign, here are answers to some key questions:
Q: Where has Russia carried out raids?
A: Russia has conducted air strikes in 10 of Syria's 14 provinces,
including the Islamic State (IS) jihadist group strongholds of Raqa and Deir Ezzor.
But most of its raids have been concentrated in Hama, Idlib, Latakia,
Aleppo and Homs provinces, where the Syrian government has launched ground offensives largely targeting non-IS groups.
This week, Moscow for the first time reportedly hit the southern province of Daraa, in an apparent expansion of its campaign, according to the Britain- based Syrian Observatory for Human Rights.
The only provinces without recorded Russian strikes are regime stronghold Tartus, majority-Druze Sweida, Quneitra on the ceasefire line with the Israeli-occupied Golan Heights, and Hasakeh, much of which is administered by Kurdish forces.
In all, Moscow has hit 969 "terrorist" targets in 1,008 air strikes,
according to an AFP tally based on statements from Russia's defence ministry and Russian officials.
Q: What capabilities is Russia using?
A: Russia has a long-standing military facility in the coastal regime
stronghold of Tartus, but appears to be operating mostly from a base in Latakia province for the current operation.
Defence ministry statements have referred to air strikes carried out by Russian Su-24, Su-25, Su-30 and Su-34 warplanes.
The defence ministry has also said its military helicopters are present in the country, but they have not been mentioned in statements about air strikes.
And on October 7, Moscow said Russian warships had launched 26 cruise
missile strikes against 11 targets from the Caspian Sea.
Russia has sent hundreds of paratroopers and marines to secure its
facilities in Tartus and Latakia but says none are involved in ground
operations.
Q: Which groups have been targeted?
A: Russia says its campaign is intended to target IS and other
"terrorists," but the breadth of its strikes has led to accusations it is hitting moderate and Islamist rebels rather than jihadists.
In several of the provinces it has targeted, including Hama, Latakia and Idlib, there is little or no IS presence.
Moderate groups backed by the United States have accused Moscow of
targeting them directly, including the Suqur al-Jabal group, which said in early October that Russian strikes had destroyed its weapons depot in Aleppo province.
However, Russia has also hit IS strongholds, including in Raqa province where the group's de facto Syrian capital is located, and Deir Ezzor, in the east of the country.
Q: What has changed on the ground?
A: Syria's army and pro-regime forces launched their first ground offensive backed by Russian strikes on October 7 in Hama province, targeting a series of villages and towns near a key highway.
In the initial days of the operation, they captured a series of towns and villages, but they subsequently lost ground.
In the Sahl al-Ghab region between Latakia, Hama and Idlib, the regime has taken some strategic hilltops, but not a key position that would give it line-of-fire power over a broad area.
And in southern Aleppo, government forces have taken some six villages as well as hilltops from rebel forces, according to the Observatory.
The army says it has taken 50 villages and smaller districts in the area, capturing some 120 square kilometres (45 sq miles).
But IS forces have severed the only road leading in or out of the
government-controlled west of Aleppo city, effectively placing it under siege.
The Russian intervention has put the Syrian army on the offensive for the first time in months, after a series of defeats, particularly in Idlib and Palmyra.
Q: How many people killed?
A: According to the Observatory, 595 people have been killed in Russia air strikes from September 30 to October 29, two-thirds of them fighters.
The monitor says the other third, 185 people, including 48 children, were civilians.
It documented the deaths of 131 IS fighters and 279 members of Al-Qaeda affiliate Al-Nusra Front and other non-IS groups.
Russia has said at least 300 "terrorists" were killed in strikes in Aleppo and Raqa alone, with no further details. It denied killing any civilians.
By comparison, the 13 months of strikes carried out by the US-led coalition fighting IS in Syria have killed 3,649 people.
Of those, 226 or around six percent were civilians, including 65 children, according to the Observatory.