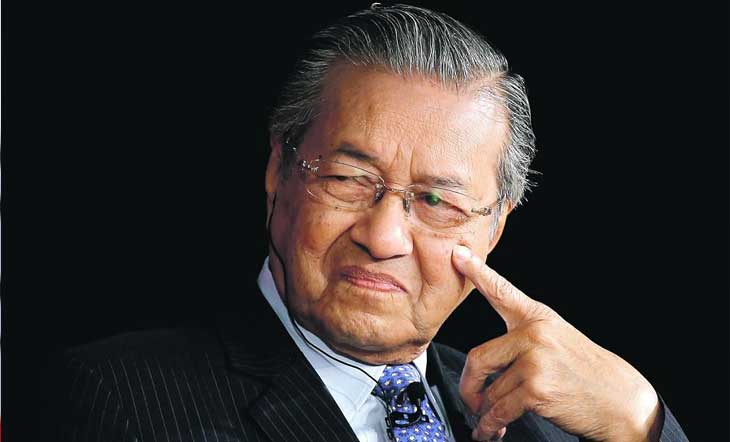 #thenewscompany :  Mahathir Mohamad has been sworn in as Malaysia's 7th prime minister in a ceremony before the Southeast Asian country's king after leading opposition parties to a historic election victory. The ceremony at the official state palace in Kuala Lumpur ended a day of uncertainty during which rumors swirled that the National Front, Malaysia's ruling party for 60 years, would try to stay in power.
People outside the palace cheered and waved opposition flags. Mahathir was Malaysia's prime minister for 22 years until 2003. He returned to politics to oust his former protege Najib Razak, who was tarnished by allegations of massive theft from a state investment fund. The controller of Malaysia's royal household says the king has invited Mahathir Mohamad to form the next government after receiving official election results and will swear him in as prime minister.
The ceremony is scheduled for 9.30 p.m. The statement said Malaysia's monarch, Sultan Muhammad, "strongly refutes" any allegation that he delayed the appointment of Mahathir. Mahathir, prime minister for 22 years until 2003, led opposition parties to an unexpected victory in the election, ending the National Front's 60 year rule.
Pro-democracy activists in Thailand, which has been under military rule since 2014 and where an election is expected early next year, say Malaysia's election advanced democracy, but its political system remains flawed.
"It was an intensely fought election and the most democratic one in Malaysia's history," Jaran Ditapichai, a human rights activist who was a leader of the 2010 "Red Shirt" uprising quashed by Thailand's army, said on his Facebook page.
Opposition parties led by former authoritarian leader Mahathir Mohamad won Wednesday's Malaysian election. Jaran, who lives in exile in Europe, said the Malaysian upper class, like Thailand's, has right-leaning attitudes "which are obstacles to democratic systems."
Former Thai Prime Minister Thaksin Shinawatra, whose ouster by a military coup in 2006 launched a sometimes violent battle for power between his "Red Shirt" supporters and royalist "Yellow Shirts," congratulated Mahathir on his "spectacular comeback."
"The power of the people has spoken loud and clear that they do not only remember his outstanding legacy but needed his leadership," wrote Thaksin, who is in self-imposed exile to avoid a prison term on a conflict of interest conviction he says is politically inspired.
Malaysian national police chief Mohamad Fuzi Harun says security in the country is under control and police will ensure a smooth transition of power following the opposition's election victory.
He called for the new government to be installed as soon as possible and promised to give it the police's full cooperation.
Mohamad Fuzi said Thursday the previous day's election was largely peaceful except for some scuffles between supporters of opposing political camps.
He said police used a water cannon in the administrative capital, Putrajaya, early Thursday to disperse a group of opposition supporters setting off fireworks to celebrate the election victory.
The election victory of opposition parties led by Malaysia's former authoritarian leader Mahathir Mohamad has raised uncertainty for the economy and for big projects linked to China's regional infrastructure initiative.
Analysts said Thursday that Mahathir's strong track record in handling the Asian financial crisis of two decades ago could prevail in the long run.
Malaysia's currency, the ringgit, fell soon after the results were known. The impact on local share markets won't be seen until they reopen on Monday.
The opposition coalition tapped into public anger over a corruption scandal and over a new tax to end the National Front's 60-year hold on power.
The country remains heavily dependent on exports of both commodities and manufactured goods but the World Bank says its economic outlook is "favorable."
Mahathir Mohamad says the opposition parties who won a shock victory in Malaysia's elections have a clear mandate to form a new government and he expects to be sworn in as prime minister on Thursday.
He disputed outgoing premier Najib Razak's assertion that the king must appoint the new prime minister because no single party has a parliamentary majority. The constitution, he said, only specifies that the prime minister must represent those with a majority in the legislature.
In a lively news conference, the 92-year-old Mahathir flagged sweeping changes for Malaysia.
He vowed to cancel an unpopular goods and service tax imposed since 2015 and criticized a recently introduced "fake news" law. The government could also renegotiate the terms of Chinese loans for infrastructure projects.
Mahathir said the new government would seek the release and full pardon of Anwar Ibrahim, an opposition icon imprisoned on sodomy charges that Anwar and his supporters said were fabricated by the National Front to crush the opposition.
Malaysia's prime minister Najib Razak, who led the ruling National Front coalition to a historic loss in a national election on Wednesday, has conceded defeat.
At a televised press conference, Najib said, "I and my colleagues accept the verdict of the people."
He said the National Front "will honor the principle of democracy in the parliament."
Opposition parties, led by Malaysia's former authoritarian leader Mahathir Mohamad, tapped into anger over a corruption scandal and a new tax to end the National Front's 60-year hold on power.
Because no single party won a majority in the election, Najib said the country's king will have responsibility for appointing the next prime minister.
"The national front will respect whatever decision is made by the king," he said. "I urge all Malaysians to be calm and to trust the king's wisdom to make the best choice."
Supporters of Malaysia's new government have taken to the streets of Kuala Lumpur to celebrate their unexpected election victory.
People stood on roadsides waving the white, blue and red flag of the opposition alliance that triumphed in Wednesday's national election. Cars honked their horns as they sped past.
"I'm so happy," said a woman waving the opposition flag. "I hope we'll have a better Malaysia now. Malaysia reborn!"
Malaysian voters were angered by a corruption scandal involving Prime Minister Najib Razak and new taxes. The opposition victory ends the ruling National Front's 60-year-old on power.