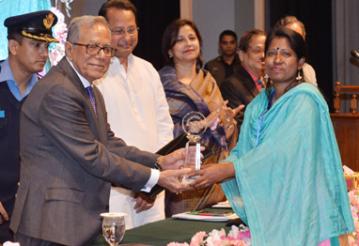 #thenewscompany – President M Abdul Hamid handed over the 'Bangladesh Press Council Award-2018' to renowned journalist Abdul Gaffar Chowdhury and four other newsmen and one organization at a function at the Osmani Memorial Auditorium here this afternoon.
The award (padak) was given in six categories – life-time achievement in journalism, rural Journalism, development journalism, woman journalism, photography and institutionalization of journalism. Each of the awardees got Taka 50 thousand, a crest and a certificate of their outstanding achievements.
The award recipients are: Columnist Abdul Gaffer Chowdhury (life-time achievement padak), Rajib Noor, special correspondent of the Daily Samakal (rural journalism), Rajan Bhattacharya, senior reporter of the Daily Janakantha (development journalism), Chief Reporter of the daily Barisal Samoy Morjina Begum (women journalism), Alamin Leon, staff photojournalist (Photography), and the Daily Sangbad (Institution)
Information Minister Hasanul Haque Inu and State Minister Tarana Halim, Chairman of Bangladesh Press Council Justice Mohammad Momtaj Uddin Ahmed, Chairman of Parliamentary Standing Committee on Information Ministry AKM Rahmatullah, Acting Information Secretary Md Nasir Uddin Ahmed, Chairman of Jury board Gulam Sarwar and member of Bangladesh Press Council Manzurul Ahsan Bulbul, among others, were present on the occasion.