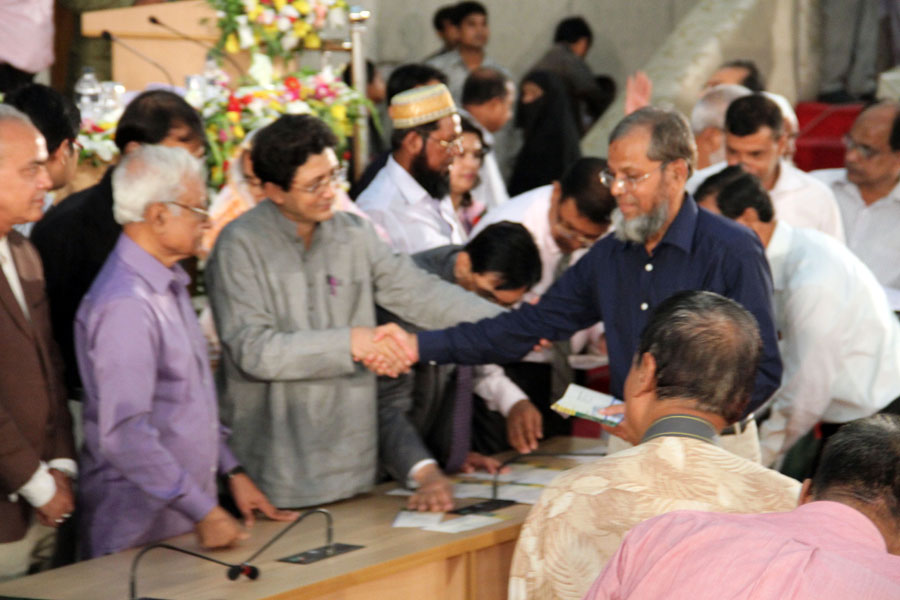 Janata Bank Limited (JBL) accorded a reception for title-holding freedom fighters and their family members at Dhaka University NABAB NAUAB ALI Chowdhury Senate Bhaban Auditorium on September 08, 2013. Janata Bank Limited honoured these valiant freedom fighters Thursday in the capital under its corporate social responsibility (CSR) programme.
A total of 215 freedom fighters from Dhaka zone received honorary crests and certificates at a gala event held at Dhaka University Senate Bhaban.
Prof Shirajul Islam Chowdhury handed over the crests and certificates to the war heroes as the chief guest and Janata Bank Chairman Prof Abul Barkat addressed the event as special guest while the bank MD and Chief Executive Officer (CEO) SM Aminur Rahman presided.
Chief Guest demanded a foolproof list of freedom fighters and to bring them under the government's support, considering their praiseworthy contribution to the nation.
He called upon the government to take an initiative to create a welfare fund involving the public and private banks and financial institutions for their betterment.
Prof Barakat said over 70 per cent of the country's assets have been possessed by anti-liberation forces while pro-liberation have only the remaining portion.
The state-owned bank also published an informative book depicting lives of the liberation war veterans.
eNewsDesk