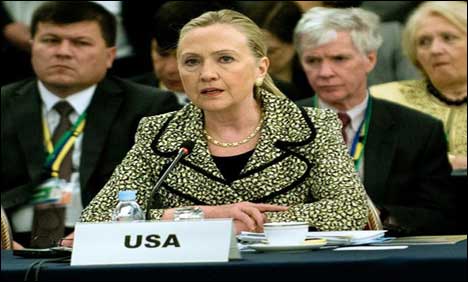 TOKYO, July 8 (e-News/BSS/AFP) – The future of Afghanistan belongs to its people, US Secretary of State Hillary Clinton told an international aid conference in Tokyo Sunday aimed at charting a path in the decade after foreign troops leave.
"We all know that Afghanistan's security will not be measured only by the absence of war. It will also be measured by the presence of jobs and economic opportunity," Clinton told the meeting in Tokyo.
The talks, focussed on what happens to Afghanistan when NATO combat troops leave in 2014, have already raised pledges of $16 billion in civilian aid for the conflict-torn nation over the next four years.
Clinton told the meeting the administration of US President Barack Obama would be asking Congress to agree to keep American civilian assistance to Afghanistan at or near current levels until 2017.
"We need to put the commitments together in order to achieve a future that is worthy of the sacrifice of the Afghan people and many nations represented around this table," Clinton said.
She highlighted the growing collaboration between the Afghan government of President Hamid Karzai, its neighbours, the international community and the private sector, and hailed the government's vision for "unlocking Afghanistan's economic potential by achieving a stable democratic future".
But Clinton also made a powerful plea for Afghanistan's leaders to enhance the role of women.
Significant progress has been made on women's rights since the US invasion in 2001 led to the fall of the Taliban, with the number of girls attending schools soaring and more women gaining employment.
But many fear those gains are under threat as NATO troops leave and Kabul seeks peace with Islamist insurgents.
"The United States believes strongly that no nation can achieve peace, stability and economic growth if half the population is not empowered," Clinton stressed.
"All citizens need to have the chance to benefit from and contribute to Afghanistan's progress. The United States will continue to stand strongly by the women of Afghanistan."