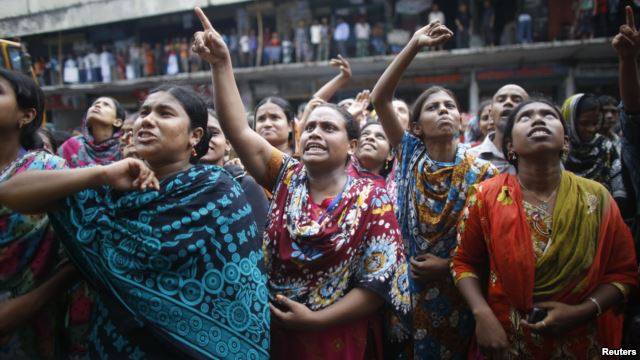 Tens of thousands of workers in Bangladesh's garment factories have been protesting in recent days to demand an increase in the minimum wage for their industry, which the government last increased three years ago. The government has answered by ordering police to shoot tear gas and rubber bullets at protesters rather than addressing the real grievances of the workers.
This astonishing response is the latest example of the blindness of Bangladesh's leaders, including the prime minister, Sheikh Hasina, to injustices the rest of the world can see but they refuse to acknowledge, let alone address. The government has not raised the $38-a-month minimum wage for clothing workers since 2010, despite persistently high inflation. And that increase was the first since 2006.
Workers want the minimum wage to be nearly tripled to about $100 a month. Factory owners are offering $46. They can clearly pay more. Their businesses are booming as European and American clothing companies shift production to Bangladesh from China, where wages are rising. Last year, Bangladesh exported $19 billion in clothes, up more than 50 percent from two years earlier.
Bangladesh has some of the lowest labor costs in the world, partly because many in the country of 155 million people are unskilled and can escape rural poverty only by taking jobs in clothing factories. But the government has also helped depress wages. Apart from not raising the minimum wage, lawmakers have colluded with factory owners to keep workers from forming unions to negotiate for better pay. There are few collective-bargaining agreements in the garment industry and a recently approved labor law will do little to change that. The absence of such agreements not only keeps wages low but encourages poor safety standards. In April, more than 1,100 workers died when a poorly constructed factory building collapsed outside Dhaka, the capital. Hundreds more have died in fires in recent years.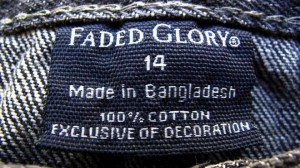 It should come as no surprise that workers have taken to the streets. As many as 200,000 people have joined the protests, and some have turned violent. Hundreds of factories have been closed after angry workers or their supporters set some on fire. And dozens of people have been injured in clashes with the police.
Both sides — the protesters and the police — need to show restraint. But Ms. Hasina's government must take the first step by stopping the use of tear gas and rubber bullets on mostly unarmed protesters. Next, it should raise the minimum wage and index it to inflation. And it will have to make it easier for workers to form unions.
We have supported efforts by labor groups to convince Western companies to help pay for factory-safety improvements, a process that should start in the coming months. Some retailers like H&M of Sweden have also asked the government to raise the minimum wage. More Western companies should follow H&M's lead. They all have a stake in industrial peace, which Bangladesh is unlikely to achieve without higher wages.
 Source : NYT / By THE EDITORIAL BOARD