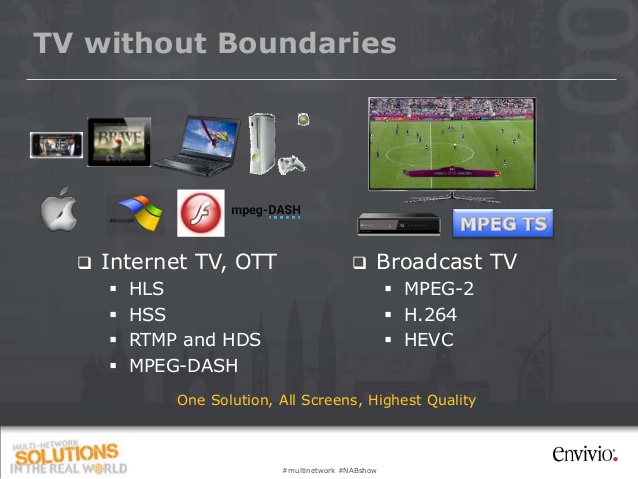 e-News® | The NEWS Company…SAN FRANCISCO, June 6, 2015 : Envivio Inc. (NASDAQ: ENVI), a leading provider of software-based video processing and delivery solutions, will introduce two hardware platforms optimized for video processing, the Envivio G6 and Envivio X1 platforms at BroadcastAsia 2015, scheduled June 2-5 in Singapore. Both products harness the power and performance capabilities of the latest generation Intel-based hardware platforms to further boost performance and video quality of Envivio Muse processing software.
"These platforms offer superior performance for video processing applications. Video providers also gain flexibility, as these can be used with third-party processing solutions, but are designed run Envivio's suite of processing software for reliable and brilliant video compression," said Boris Felts, vice president, products and solutions.
The benefits of both Envivio platforms include:
Intel-based systems leverage the latest microprocessor/CPU technology to enable high video quality, pre-processing and a broad feature set
Highly efficient platforms reduce OPEX, power and rack space requirements
A powerful, compact design support multi-channel or multi-node configuration, offers operators flexibility and scalability
Seamless integration in IT datacenter infrastructures
Envivio G6: The Envivio G6 platform uses the latest generation of Intel Xeon Haswell CPUs to provide outstanding performance and density for video processing and delivery applications. It is available in 1RU (1000 series) with up to 16 SDI interfaces or 2RU (2000 series) form factors. For service providers, this advanced performance corresponds to a reduction in operating expenses: compared to previous generation appliances, Envivio G6 platforms have the ability to process 30% more channels and 30% more transcoding of VOD libraries at once. In other words, Envivio G6 reduces rack space requirements by almost 40%, power consumption by more than 30%.
Envivio X1: The platform is designed for medium sized head-ends requiring a variety of input interfaces. It includes the latest generation Intel Xeon E3 Haswell processors with high processing performance.  This is a versatile, affordable solution for video service providers. The appliance is a compact 1RU chassis that offers comprehensive ingest possibilities including IP ingest through MPEG-2, or up to eight analog or eight SDI inputs.
Because it leverages the latest generation processors, the X1 platform offers unique cost benefits to video providers: power consumption and cost per broadband channel are drastically reduced compared to other technologies and platforms. The resulting processes offer video distributor low total cost of ownership, faster time to market, streamlined operations and exception quality of experience.
About Envivio :
Envivio (NASDAQ: ENVI) is a global market leader and innovator of video software solutions that are trusted by video service providers and content companies worldwide to power stunning video quality and captivating, personalized experiences to their millions of viewers on their main screen as well as any device, over any network. Leveraging its pioneering and technically superior virtualized video delivery solutions, Envivio enables video operators of any size to increase revenues and reduce costs while uniquely providing the best-in-class quality, reliability, efficiency, and scalability to support the new age of video anywhere. Envivio is headquartered in San Francisco, California with offices worldwide in France, China and Singapore. Visit http://www.envivio.com for more information, or connect with us on LinkedIn.