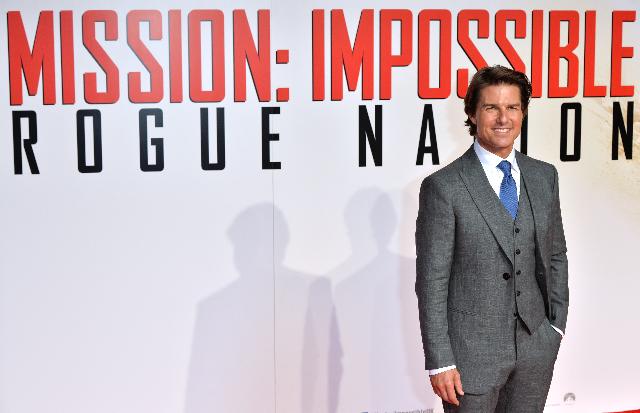 e-News® | The NEWS Company…LOS ANGELES, August 10, 2015 : "Mission: Impossible – Rogue Nation" fought off its competitors to claim the top spot on the North American box office chart for a second straight week, industry estimates showed Sunday. Tom Cruise returns as a top-secret agent battling a rogue global organization in the fifth installment of the blockbuster franchise.
Box office tracker Exhibitor Relations said the film pulled in an estimated $29.4 million over the weekend, edging out the latest Marvel superhero flick "Fantastic Four."
"Fantastic Four," a reboot of the comic book franchise about four youths transported to an alternate universe where they gain superpowers, debuted to poor reviews and a disappointing $26.2 million take. Also making its North American debut was "The Gift," a psychological thriller with Jason Bateman and Rebecca Hall, which opened in third place with $12 million in weekend ticket sales.
"Vacation," starring Ed Helms, Christina Applegate and Chevy Chase in a remake of the comedy classic about a family holiday gone awry, dropped from second to fourth place, making $9.1 million in its second weekend. Marvel action flick "Ant-Man" was in fifth place with an estimated weekend gross of $7.8 million for a cumulative $147.4 million after four weeks in theaters. Just behind it in sixth place at $7.4 million was animated comedy "Minions", whose yellow mischief-making creatures have raked in nearly $303 million since the movie's debut.
"Ricki and the Flash," starring Oscar winner Meryl Streep as a rock-and-roll singer who faces a reckoning with her long-suffering family, debuted in seventh place with $7 million in ticket sales. "Trainwreck," the Amy Schumer-Judd Apatow comedy about a boozy commitment-phobic magazine writer, slipped to eighth from sixth place at $6.3 million. Animated film "Pixels," about aliens who attack Earth after intercepting video games, dropped to ninth place, taking in $5.5 million.
Rounding out the top 10 with a box office take of nearly $4.8 million was "Southpaw," starring Jake Gyllenhaal as a boxer at the end of his bruising career.