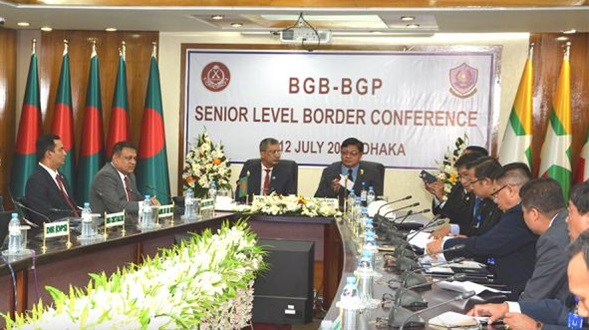 #thenewscompany : Border forces of Bangladesh and Myanmar have agreed to work together to step up security in the common border areas by conducting joint patrol and enhancing surveillance.
Border Guard Bangladesh (BGB) and Border Guard Police (BGP) of Myanmar reached the agreement at a four-day senior officer level conference, Additional Director General of BDR Brig General Md Anisur Rahman told newsmen today.
The conference started at Peelkhana Headquarters of BGB in the capital on July 9 and ended today with the signing of Joint Record of Discussions (JRD.
However, the border forces have agreed in principle to hold next senior-level border conference in Myanmar capital Naypyidaw in January next.
Brig Gen Myo Than, Chief of police general staff of Myanmar, led an 11-member delegation of Myanmar while Brig General Md Anisur Rahman, Additional Director General of BDR, led a 13-member delegation of Bangladesh at the conference.
At the conference, the frontier bodies have agreed to conduct joint patrol, enhance surveillance along their common borders to stop border crimes such as smuggling of narcotics especially the contraband yaba pills and illegal firearms and human trafficking. They also agreed to exchange information between them about border crimes to take immediate action to effectively fight the menace.
BGB has expressed grave concern on illegal trespassing of Myanmar nationals into Bangladesh territory and firing incidents at border areas and requested Myanmar to stop such incidents to maintain peace along the borders.
In reply, the Myanmar delegation said they have already taken necessary measures to stop recurrence of such incidents.
Both the frontier bodies have held detailed discussions on removing land mine and improvised explosive device (IED) from the no-man's land of the border and to stop operating Myanmar military helicopters and drones at border areas. The Myanmar delegation has agreed to inform their authorities concerned of the matters.
The border forces have expressed their grave concern on spreading yaba menace in both the countries while BGP told their counterpart BGB that they have been working to put an end to it.