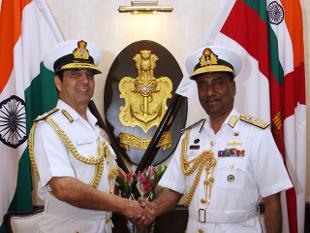 e-News® | The NEWS Company…NEW DELHI, Nov 2, 2015 : Vice Admiral Muhammad Farid Habib, Chief of Bangladesh Navy, is on a four-day official visit to India from Monday (November 2) to review the existing cooperation between the navies of Bangladesh and India and explore future avenues. The visit by Vice Admiral Farid Habib is aimed at consolidating existing naval cooperation as well as exploring new avenues.
The areas of cooperation that are proposed to be discussed during the visit of Bangladesh Navy Chief include option of coordinated patrolling along International Maritime Boundary Line(IMBL), bilateral exercises between both navies and joint surveillance of Exclusive Economic Zone. Cooperation in hydrography, exchange of White shipping information, measures to augment maritime security in the Bay of Bengal, cooperation and collaboration in shipbuilding as well as cooperation in development of Blue Economy would also come up for discussion.
The Bangladesh Navy Chief was formally received by Admiral RK Dhowan, Chief of Naval Staff of India and accorded a ceremonial Guard of Honour at South Block lawns earlier in the day. Both the Chiefs had discussions on various issues during the day. The visiting dignitary had interactions with DG Coast Guard and senior officials of MoD thereafter. The BN Chief of Naval Staff is also scheduled to visit HQWNC (Mumbai) and Garden Reach Shipyard in Kolkata.
India-Bangladesh relations are based on historical legacy, culture and geography. India was the first country to recognise Bangladesh as a separate and independent state. India and Bangladesh's geographical location presents an opportunity to develop mutual economies as well as enhance maritime security. In the last four and a half decades, both nations have built a comprehensive framework to promote bilateral cooperation.
The signing of "Land Boundary Agreement" during the recent visit of Indian Prime Minister Narendra Modi to Bangladesh as well as acceptance of maritime boundary delimitation decision by Arbitration tribunal indicates maturity of bilateral relations between both the nations. The naval cooperation between both the navies span a wide spectrum of maritime activities that includes BN's regular participation in multilateral naval exercise MILAN conducted by Indian Navy at Port Blair, Navy to Navy Staff Talks, cooperation in training as well as port calls by ships to each other's ports.
Regular exchange of naval experts and professionals ranging from young cadets to high-level officials provide opportunities for sharing of experience and best practices.