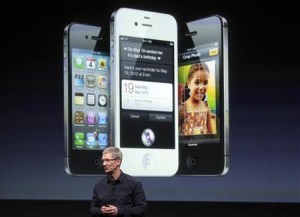 AT&T sold more than 200,000 of Apple Inc's latest iPhone in the first 12 hours and said it had seen "extraordinary demand" for a gadget unveiled a day before the death of Apple co-founder Steve Jobs.
The iPhone 4S was unveiled on Tuesday and immediately underwhelmed fans who had hoped for a revolutionary design after a wait of more than 15 months.
But Wall Street analysts are betting that hardware updates and software enhancements, including a well-reviewed voice-recognition software system, will pull in buyers.
AT&T, Verizon Wireless and Sprint began taking U.S. online orders for the device on Friday.
Comparisons are difficult because the iPhone is now carried by three wireless operators, versus just one. Last year AT&T was the only carrier to sell the phone. But the previous generation of the smartphone, the iPhone 4, was the fastest-selling mobile in Apple's history, with 1.7 million devices selling in the first three days.
Estimates vary, but some analysts expect Apple to sell about 27 million to 28 million iPhones in the October-December quarter.
The latest iPhone 4S hits store shelves around the world on October 14. It debuts at a critical juncture for Apple.
Phones based on Google Inc's Android — such as Samsung's Galaxy — are providing heightened competition just as a new CEO, Tim Cook, takes the reins.
Jobs, who died on Wednesday after a long battle with pancreatic cancer, ceded the top job to Cook in August. Some analysts say people seeking to commemorate the legacy of Apple's iconic co-founder may scoop up the very last iPhone to be unveiled in his lifetime, giving sales a bump.
Apple was not immediately available for comment. Sprint iPhone sales were not mentioned during a an unrelated news conference by Spring on Friday.
Shares in Apple were holding steady at $370 in after-hours trade.
Source : Reuters