Dell says its approach to the tablet market is better than Apple's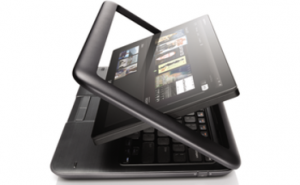 The iPad is doomed to fail, according to market rival Dell. This is despite Apple selling 14.8 million iPads worldwide in 2010, a figure that represented 75% of the tablet PC market at the time. So, what exactly is Dell basing this prophecy of failure on?
By the time the iPad 2 launched last Friday, Apple had sold 15 million of the original iPad, more than all other tablet PCs combined. Dell, who makes one of these rival tablets, feels that the iPad has had its day and that ultimately, it will fail.
Speaking to CIO Australia, Dell's Andy Lark said that the iPad was ill-equipped to succeed in the enterprise market:
"Apple is great if you've got a lot of money and live on an island. It's not so great if you have to exist in a diverse, open, connected enterprise; simple things become quite complex."
Dell, who makes a tablet that isn't really a tablet, feels that its approach is far more capable of success in enterprise. It would appear that Dell feels tablets should include physical keyboards.
This, to us, somewhat destroys the point of a tablet. The Inspiron Duo is a laptop that can flip over to become a quasi-tablet with the keyboard hidden underneath. Dell's website says this design allows you to "switch from touch to type in seconds".
Lark also claimed that turning the iPad into a laptop didn't make financial sense:
"An iPad with a keyboard, a mouse and a case [means] you'll be at $1500 or $1600; that's double of what you're paying […] That's not feasible."
Our main problem with this argument is that it seems to conveniently miss the point of the iPad. Unsurprisingly, Dell feels that its hybrid offering is the best bet. From what we've seen so far though, very few people want to connect a tablet up to a keyboard and mouse.
Author : James Temperton