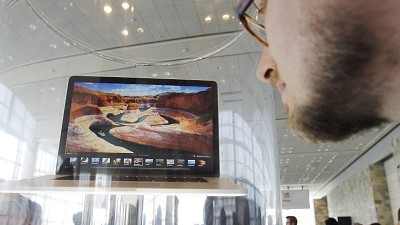 Apple is introducing a laptop with a super-high resolution "retina" display, setting a new standard for screen sharpness, the firm has said.
The new MacBook Pro will have a 15in screen and four times the resolution of previous models, Apple chief executive Tim Cook told developers at a conference in San Francisco.
Apple already uses "retina" displays – with individual pixels too small to be distinguished by the naked eye – in its latest iPhones and iPads.
The new MacBook will cost at least 2,199 dollars (£1,419), 400 dollars (£258) more than the non-Retina MacBook with the same-sized screen. Apple's other MacBooks are being updated with the latest processors from Intel.
The new MacBook borrows features from the ultra-slim MacBook Air.
It is only slightly thicker, and like the Air, lacks a DVD drive. Instead of a spinning hard drive, it uses flash memory for storage. In the most radical departure from the last decades of PC design, it lacks an Ethernet port. Those who do not want to use Wi-Fi to connect to the internet will have to buy an adapter that goes into the MacBook's Thunderbolt port.
Apple's other MacBooks are being updated with the latest processors from Intel. Apple will still sell a more traditional 15-inch MacBook Pro, with a standard display.
Apple also said the new version of its Mac operating system, Mountain Lion, will go on sale next month for 20 US dollars. The update brings features from Apple's phone and tablet software, like the iMessage texting application, to the Mac.
Microsoft, Apple's competitor when it comes to computer software, is also making Windows more like its phone software, with the release of Windows 8 later this year. A key difference is that Microsoft is betting that PCs will have touch screens, while Apple is betting they will not.
Mountain Lion will also bring dictation to Macs. Users will be able to input text by talking to the computer, in any programme. This is already a feature of Microsoft's competing Windows software.
Source : Orange News