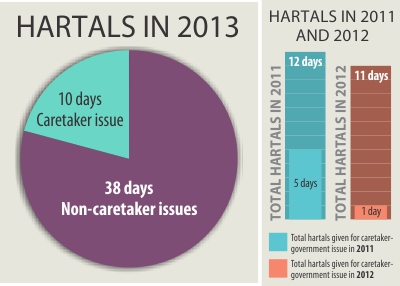 DHAKA, Nov 6, 2013 – The 60-hour nationwide shutdown (hartal), enforced by the BNP-led 18-party alliance, passed off today with reports of stray incidents of clashes, vandalism and blasts of crude bombs in the capital and some parts of the country.
Country's main opposition BNP and its other components in the 18-party alliance including its major rightwing Jamaat-e- Islami (JI) called the hartal from November 4 to 6 o'clock this evening demanding non-party polls-time government.
Sources said, no reports of major untoward incident reached here although hartal supporters belonging to Jamaat-Shibir set fire to rail line at different spots from Kamlapur to Ukilpara area of Narayanganj early morning today disrupting train movement for about one hour. Later police brought the situation under control, according to witnesses.
Earlier, opposition's hartal marked massive violence,cocktail blasts, vehicle torching and widespread vandalism across the country claiming several lives and injuring many others on Monday and Tuesday.
The opposition alliance already observed another three-day shutdown from October 27 demanding a dialogue on the non-party interim government.
Witnesses said the public life in Dhaka city remained largely normal as city dwellers joined their routine works apparently defying the hartal.
Educational institutions and most shopping malls remained closed, but government, non-government offices and financial institutions were open with satisfactory attendance.
The authorities concerned, meanwhile, ensured tight security measures with the deployment of additional forces including anti- crime elite force Rapid Action Battalion (RAB) and para-military Border Guard Bangladesh (BGB) during the hartal.
Rickshaws and auto-rickshaws dominated the city streets. However, no long-route bus left Mohakhali, Saydabad and Gabtoli terminals since the morning fearing vandalism.
@eNewsdesk / Photo Courtesy : FB