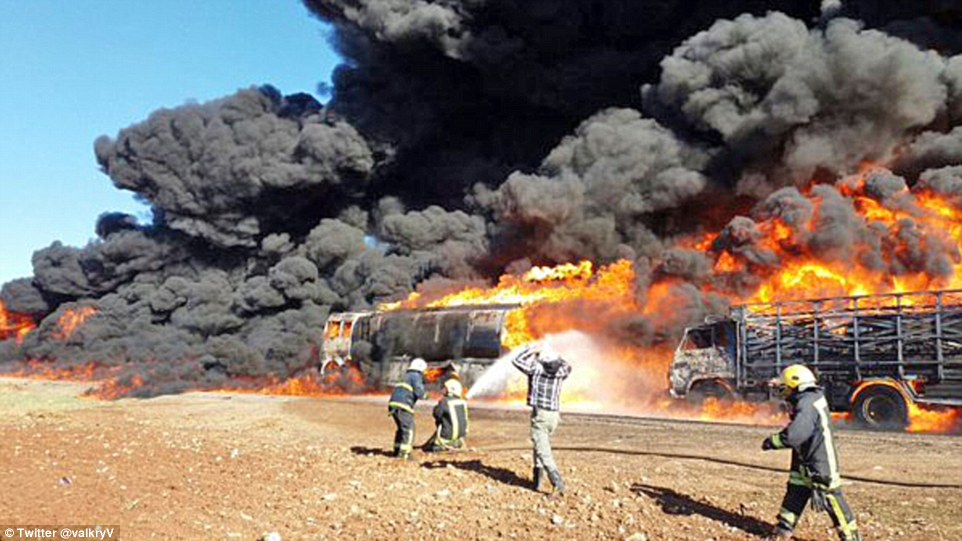 e-News® | The NEWS Company…Ankara, December 04, 2015 : An Islamic State oil convoy was completely destroyed by a Russian air strike in Syria – just days after Russian President Vladimir Putin said Turkey was buying it from Islamists. Video footage captures the moment plumes of thick black smoke billow from the truck, carrying what is believed to be ISIS oil, after it was hit by an aircraft. In the clip firefighters struggle to keep the blaze under control as flames engulf the lorry, which was targeted in the northern outskirts of Aleppo province.
The video has emerged just five days after Vladimir Putin accused Turkey of shooting down a Russian fighter to protect its supply of oil from ISIS. The Russian President said he had received more information showing that ISIS oil was going via Turkey. And he claimed that Turkey's downing of a Russian warplane near the Syria border last week was dictated by a desire to defend those supply lines.
Speaking at the global climate conference in Paris, Putin said the downing of the plane was a 'huge mistake' and that he had not met with Turkish President Tayyip Erdogan at a summit in Paris on Monday. 'We have every reason to think that the decision to shoot down our plane was dictated by the desire to protect the oil supply lines to Turkish territory,' Putin said during a news conference on the fringes of the climate talks.'
However, following his claims Turkey's president yesterday said he had proof Russia was involved in the illegal oil trade with the Islamic State, as Vladimir Putin vows to never let Ankara forget the downing of his warplane. Turkish leader Recep Tayyip Erdogan said in a televised speech: 'We have the proof in our hands. We will reveal it to the world.' Ankara's accusation comes after Russia accused Erdogan's family of involvement in the trade with ISIS – part of a black market enterprise which adds millions of dollars to the terrorists' coffers. Relations between the two countries have been deteriorating since Turkey shot down the Russian military plane near the Syrian border last month after claims it entered their airspace.
Russia has announced sanctions against Ankara banning the import of some Turkish food and reintroducing visas for visitors from the country. 'We will not rattle our sabres. But if someone thinks that after committing heinous war crimes, the murder of our people, it will end with tomatoes and limitations in construction and other fields, then they are deeply mistaken,' Putin added. The body of 45-year-old pilot Lt-Col Oleg Peshkov – shot down by the Turkish air force last week – was returned to his homeland on Tuesday. There are claims he was killed by rebels after bailing out of his Su-24 bomber but the exact circumstances are still not clear.
His Su-24 co-pilot Captain Konstantin Murakhtin survived after being plucked to safety in a rescue mission. He is now back in Moscow. Russia angrily denied Turkish claims that the Su-24 encroached Turkish airspace. But Turkey said it will not apologise to Russia for shooting down the warplane operating over Syria. Turkish Prime Minister Ahmet Davutoglu stressed that the military was doing its job defending the country's airspace. At one point the Russians were also urged to boycott Turkish tomatoes and supermarkets.