e-News® | The NEWS Company…DHAKA, Dec 12, 2015 :  Former US Senator Edward Kennedy in 1971 at the end of his visit of relief camps of Bangalee refugees in India was utterly shocked and termed the 1971 genocide by Pakistani occupation force in the then East Pakistan "a tragedy for the entire world."
He described : "The tragedy of East Bengal is not only a tragedy for Pakistan. It is not only a tragedy for India. It is a tragedy for the entire world community and it was the responsibility of that community to act together to ease the crisis,"
"The Testimony of Sixty", a publication by US based relief organisation Oxam in October, 1971, carries the statement of the US Senator along with description of sixty men and women including Mother Teresa. The publication attracted the people across the world at that time.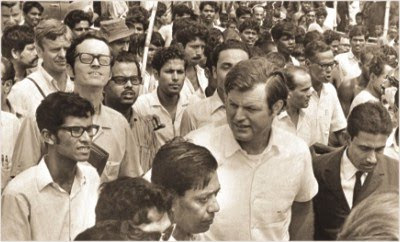 Others are international journalists testifying specially for this document: Michael Brunson (ITN), Clare Hollingworth (Daily Telegraph), Claude Mosse (Radio Suisse) Frederick Nossall (Toronto Telegram), John Pilger(DailyMirror) and Nicolas Tomalin (Sunday Times). Yet others are experienced relief workers from British, European, North American and Indian organisations.
A Canadian journalist Stanly Burk in his report that was incorporated in the Oxfam edition said, "It is thought provoking to realize that in the First World War people were horrified by the sinking of the Lusitania with the loss of few hundreds lives.
In the Second World War people were shocked by the bombings of Hiroshima at a loss of 150,000 lives. Today the world is indifferent to a tragedy (1971 tragedy in East Bengal) affecting millions."
There are such sixty descriptions what their writers termed those 'edefying description' and four photographs of Gerald Scarf on 1971 tragedy in the Oxfam publication 'The Testimony of Sixty.'
Gerald Scarf was requested to send a write up on what he witnessed in 1971, but he sent the four photographs saying, "I am not a man of words."
"They are the eyewitness and the story they tell is horrifying. It is story of millions hounded, homeless, and dying. It is, too, a story of the world community engaged in communal ostrich act," according to the introduction of the Oxfam publication.
Oxfam Director Lesley said, "Perhaps it is that the world does not know. Then let the facts speak. Perhaps it is that we just cannot comprehend the extend of the disaster.
A population the size of Sweden and New Zealand together have already fled from their homeland. Millions more who remain now face famine."